I know Ford has no plans to introduce a genuinely compact pickup truck to the U.S. market (they need big ones to haul away all that F-150 money), and I expect even the new Ranger won't be that small, so I think it's important to see the lengths people will go to have a truly compact pickup. Go on, look at it.
A reader named Hugo sent this in to me, this remarkable little Focus-150, and I have to say I'm pretty taken by this thing. I like how the builder/designer kept a fastback design when converting to a pickup, keeping the profile of the car quite sleek.
I'm also impressed with how well those ubiquitous Jeep/truck/trailer taillights were incorporated into the design, and the level of attention it took to provide side marker lights as well.
The tailgate I suspect came from some other vehicle (perhaps one of those trucks modified for phone companies, with all the compartments?) and I like that the builder bothered to replace the car's badges on there.
G/O Media may get a commission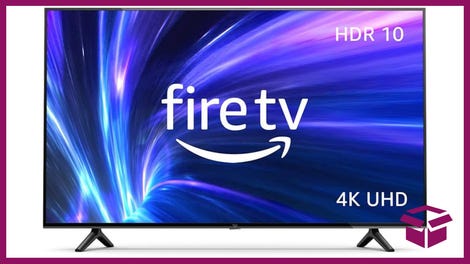 42% Off
Amazon Fire TV 50" 4K Smart TV
I'm puzzled by that large flap next to the fuel filler, though—is that some kind of enclosed storage? That'd be pretty cool.
It's also nice to see, based on the level of grime on the car and what may be a bed full of rich, dark soil or possibly coffee grounds, that this thing is actually used for real work!
Whoever you are, Focus-to-truck-converter, good work. And Ford, pay attention: if some people are willing to do this for a really small truck, there has to be even more who'd just, you know, buy one.