Good morning! Welcome to The Morning Shift, your roundup of the auto news you crave, all in one place every weekday morning. Here are the important stories you need to know.
1st Gear: Ford's Moving EV Production To Mexico
Don't worry, kids, Ford's electric crossover is still happening. It just won't be built at the Flat Rock, Michigan, plant anymore.
Instead, Ford will start building the 300-mile range crossover at its Cuautitlan plant in Mexico in order to free up Flat Rock and turn it into an "AV center of excellence," reports Automotive News.
Ford now plans to devote more volume to its autonomous vehicle development. With the move, confirmed Wednesday by Ford, Ford said it will invest an additional $200 million and add another 150 jobs.
Focusing on autonomous vehicles in Flat Rock also allows Ford to build its long-range electric crossover in a low-cost country.
G/O Media may get a commission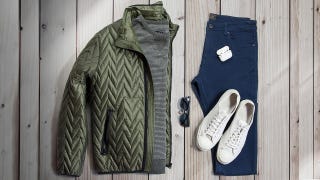 60% off
Jachs NY Fall Sale 60% Off
This is all part of Ford's plan to slash costs and reinvest funds in electrification.
In terms of autonomy, Ford is still behind GM, which launched its Super Cruise system in select Cadillac cars earlier this year. It needs to make up for that lost ground and quick.
2nd Gear: Patents? Gross
Making cars is hard! And since today's automakers are climbing over each other to offer features like on-board Wi-Fi, autonomous tech and collision prevention systems, automakers also have to be careful about not violating any intellectual property rights.
It's a problem that smartphone manufacturers ran into when phone and software companies struggled to figure out who owned what that went into the phone.
One solution? Patent the crap out of everything, according to Bloomberg. There's power in numbers:
Automakers have ramped up their patent applications as they compete to roll out crash avoidance systems, on-board Wi-Fi and cars that can drive themselves. To avoid court battles over who gets paid and how much, competitors are banding together to jointly license technology, use non-proprietary software and buying or challenging patents that might be used in lawsuits against them.

Both Toyota and Ford were among the top 21 recipients of U.S. patents last year, with 1,540 and 1,530, putting them in company with Apple Inc., Qualcomm Inc., and Alphabet Inc.'s Google, according to figures compiled by the Intellectual Property Owners Association.
Getting tied up in IP lawsuits is an expensive nightmare that nobody wants to deal with, so automakers are covering their bases by buying up all the patents they can.
I can see a problem with this, though. While patenting everything individually can help automakers stay out of murky legal fights, I'm not sure how it can help us, the consumers. There's already enough confusion over which automaker's system does what and to what extent. All these patents can only make new developments all the more exclusive to the company that purchased them. Which can be confusing. Consumers need clarity through uniformity.
It's almost like the automakers are in this for themselves and not for us...!
3rd Gear: Voice-Control Tech In Cars Needs To Get Better
More and more automakers are implementing smart devices like Amazon's Echo into their cars. Nissan is one of them. If you have the right Nissan, you can teach Alexa new skills that will let it remotely unlock or lock the doors, flash the lights or start or stop the engine.
This is not good enough, though, according to the Los Angeles Times via the Detroit News. It's called the current state of voice command technology "messy" because the systems are clunky and increase risks for accidents:
About 3,500 highway deaths in the U.S. last year were caused by driver distraction. Part of that is smartphone use, but in-car infotainment systems are to blame too, according to a study funded by the AAA Foundation. Take your eyes off the road for only two seconds and accident risk skyrockets, the study notes — but researchers found drivers spending 40 seconds or more programming navigation systems or tapping out texts on the car's touchscreen.

Even hands-free voice conversation increases accident risk, studies have shown, partly because people fiddle with their phones even when Bluetooth is on. Pure voice control would allow drivers to keep eyes on the road and hands on the wheel.
Information that's handy for driving and readily available would be handy as well. If you could ask your car if the roads were icy and have it answer back seamlessly, then that would be incredibly helpful. Part of the holdup is cost: creating such a system would be very expensive. Does the automaker then outsource to tech companies?
I think we'll see more and more partnerships between automakers and tech companies in the coming years. It's just cheaper that way.
4th Gear: Dare Greatly
As part of its complete image revamping, Cadillac hired a new chief marketing officer Uwe Ellinghaus, an ex-BMW employee, and moved its headquarters from Michigan to a trendy new location in New York City. It hoped that this overhaul of its brand would help it better compete in the crowded luxury market.
Things didn't go... quite according to plan. U.S. sales declined, despite a huge growth in the Chinese market. And now Ellinghaus is leaving his position at Cadillac by the month's end, citing "personal reasons," according to the Wall Street Journal.
Perhaps Cadillac's standing with other luxury brands had something to do with it:
Revitalizing Cadillac is a key aspect of GM Chief Executive Mary Barra's broader growth strategy. Once dominant in the U.S., Cadillac now is No. 5 in U.S. luxury sales, far behind BMW, Dailmer AG's Mercedes-Benz brand and Toyota Motor Corp.'s Lexus division.
Ellinghaus was "instrumental" in steering Cadillac's branding to design and fashion in order to woo younger buyers. He helped place Cadillac's "Dare Greatly" commercials during the Academy Awards and introduced Cadillac's subscription service.
Cadillac says that it will search for a new marketing chief. So if you know anyone looking for a job... Cadillac's hiring.
5th Gear: Fire Bad
The fire that's currently ravaging Los Angeles has halted operations for many car dealers in the area, according to Automotive News. From the story:
The massive fire has affected business at dealerships throughout the area, but hasn't yet destroyed any of them. It also forced a shutdown of one of the busiest freeways in the nation, the 405, bringing Los Angeles and surrounding areas to a halt with clogged traffic and clouded ash-filled air.

"The fires are pretty intense right around us," said Allan, senior director of Galpin Motors Inc. in North Hills, Calif., which owns Galpin Premier Collection, Galpin Ford, Galpin Mazda, all in Van Nuys, and Galpin Subaru in Santa Clarita. "We haven't had to close our facilities, but we have had several employees impacted by it. The smoke is so intense. We're in the middle of it. It's a ring of fire."
Other dealerships have emailed their employees, saying that health and safety come first and that it is alright if they cannot make it into work. As it stands, nobody is really looking to buy a car right now.
Stay safe out there, everyone.
Reverse: Infamy
Neutral: How Much Does Brand Image Actually Matter?
Full disclosure: I used to work at a PR agency that had a Cadillac account. And while I was working there, I always wondered how things like commercials during the Academy Awards and fancy ad campaigns actually factor into how people feel about a brand and, ultimately, affect their car buying decisions.
How much does branding matter to you when you're buying a car?