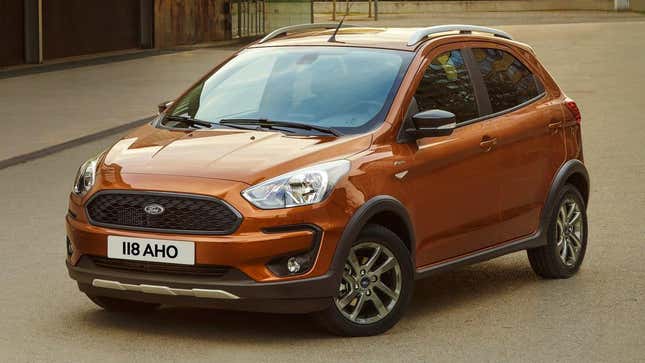 Last year, Ford decided to kill all of its small cars in the U.S., including the Ford Fiesta, Focus and Fusion, in favor of focusing more on what Americans really want: crossovers. But that leaves a huge gap in the Ford portfolio, which it now confusingly plans to fill with an all-new model in 2022.

This Is The New Mercedes-Maybach Night Series
Instead of giving us the Focus Active to fill some of the void left by all of those cars, which was briefly planned but also ultimately scrapped, Ford is now planning a new nameplate for the 2022 model year that will be "affordable," according to a presentation by Ford's VP of Enterprise Product Line Management, Jim Baumbick, via Automotive News:
Jim Baumbick, Ford's vice president of enterprise product line management, on Wednesday said the automaker would by 2022 add an "affordable" nameplate aimed at filling the hole left by ending sales of the Fiesta, Focus, Fusion and Taurus sedans.

A Ford spokesman declined to say what sort of body style it would have or how big it would be.

"It's an example of how we're moving faster, working together differently and leveraging our five all-new flexible vehicle architectures," Ford said in a statement. "We came up with the concept in just 12 weeks using our new product creation process. Previous all-new vehicles could have taken years of research before receiving approval."

Is that supposed to sound promising?
Let's retrace Ford's steps really quick. Early last year it announced it was killing all of its small cars in favor of more profitable crossovers. Fair.
To make up for this, it announced the U.S. market would get the Focus Active, which is basically just a Ford Focus in crossover drag. Makes sense.
Then Ford also killed the Focus Active, likely because it would have been imported from China and the current trade situation between the U.S. and that country isn't so great. Ford is focused on profits, sure.
But now, in just 12 weeks, it has turned around and come up with an all-new model that somehow satisfies all of its sudden concerns with selling a more affordable car in the U.S. market? Which seemingly wasn't initially part of the plan to scrap all of its other affordable models? What could this new car be?
The Ford Fiesta is currently the cheapest Ford you can buy in the States. When that's gone, the cheapest car Ford sells will go from the $14,260 base Fiesta sedan to the $19,995 Ford EcoSport.
So perhaps this new model will target a starting price somewhere between those two models. And the company will want something that will move in numbers, so maybe it's another small crossover. It could even be something similar, if slightly larger, than the global market Ford Ka Active, pictured at the top.
A future product map from a Ford presentation published over on CarScoops seems to show a new "on-road performance" crossover slotted between the Escape and Edge crossovers, which may or may not be whatever this future affordable car is. Sounds expensive, to me.
We also know Ford already has whatever that "Mustang-inspired" electric vehicle will be, a new Ford Bronco, a new, smaller rugged "Baby Bronco," and a new unibody pickup likely intended to slot under the current Ranger, all on the way.
Auto News points out the new small pickup is due in 2022 and may actually be the vehicle Baumbick is talking about. It wouldn't be the end of the world if Ford swapped out some unprofitable sedans for a genuinely small and affordable pickup, but it will never replace the Fiesta and Focus ST in my heart, which only adequately supplies my brain with oxygen when I'm thinking about turbocharged manual hatchbacks.
How about this, Ford: give us the Fiesta back and just make the ST hatchback and a new Fiesta crossover of some sort. How hard could that be? (Maybe very hard, I'm just spitballing here.)