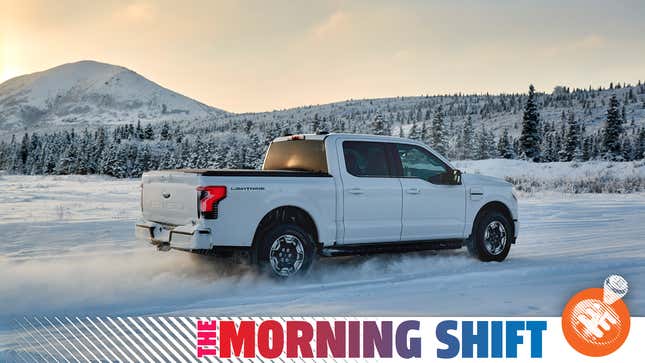 Ford is American's number two EV builder, China discontinued its electrification incentives, and Tesla can't seem to move its China-built cars. All that and more in The Morning Shift for Thursday, January 5, 2023.
Tesla's Cybertruck Is Really Late to the Electric Party
1st Gear: A Lot of People Want Lightnings and Mach-Es, Apparently
Ford's going all-in on electrification, down to its bifurcated branding, and so far the move seems to be paying off. The Blue Oval may not have caught Tesla in sales quite yet, but it seems to be edging closer every year. From Ford:
Ford's full year sales of electric vehicles hit a new record at 61,575 vehicles, making Ford the second largest automaker of electric vehicles in America. Ford sales of EVs were up 126 percent for the year and up 223 percent for December.
The Mach-E is one of the electric market's few midsize crossovers, roomier than smaller entries like the Kia EV6 or Subaru Solterra. I have to wonder if that's playing into its skyrocketing sales.
2nd Gear: Chinese EV Makers Offering Discounts After Subsides Disappear
As the United States grapples with its own federal EV incentives, China is taking a different approach: Canceling them entirely. The country finally made good on a long-planned sunset of its EV subsidy, meaning automakers now have to either raise prices or eat the difference. From Reuters:
China's decision to end a more than decade-long subsidy for electric vehicle purchases has forced automakers, including Tesla (TSLA.O), to deepen discounts to maintain sales as demand eases in the world's largest market.

The government originally planned to phase out the support scheme for EV makers and battery suppliers by the end of 2020, but extended it until the end of December in response to the pandemic.

As China grapples with the upheaval of an upsurge in COVID-19 cases and its economy grows at the slowest pace in decades, Tesla, Xpeng (9868.HK) and SAIC-GM-Wuling (600104.SS), (GM.N) have opted to hold consumer prices flat in January.

The subsidy accounted for around 3% to 6% of the cost of the best-selling electric vehicles in China last year, a Reuters analysis found.

Other EV makers, including Tesla's larger rival BYD (002594.SZ) and SAIC-Volkswagen (VOWG_p.DE), have raised prices for some models but opted to absorb most of the cost of the subsidy, the Reuters tally showed.
It's just terrible what they're doing to these poor, poor corporations out there, forcing them to earn as much as six percent less on each car sold. How will these small, mom-and-pop billion-plus-dollar companies ever afford it?
3rd Gear: Sales Of China-Built Teslas Plummet
Those discounts, however, don't seem to have worked for Tesla. The company moved fewer units from its Shanghai plant than any month since July, and idled the plant over the new year to reduce market supply. From Reuters:
Tesla Inc (TSLA.O) delivered 55,796 China-made electric vehicles in December, the lowest level in five months, according to data from the China Passenger Car Association (CPCA) on Thursday.

That was a 44% drop from November and 21% fewer than a year earlier as the U.S. automaker reduced output and cut prices to deal with rising inventories amid weakening demand.

It also marks the fewest monthly deliveries since July when most production at Tesla's Shanghai plant was suspended due to an upgrade to its production lines.
Tesla also plans to idle Shanghai later this month, once again to reduce supply in a market of faltering demand. Can the company survive a wave of competing vehicles, all released by established, competent automakers?
4th Gear: Illinois Dealers Can't Stop Direct Vehicle Sales
If there's one thing dealerships hate, it's competition. Specifically, competition that circumvents their byzantine sales structure, and reaps the profits of its absence. So, rather than modernizing, they sue — and often lose, as they just did in Illnois. From Automotive News:
Rivian Automotive, which assembles its high-end electric vehicles in central Illinois, can continue to sell directly to consumers in the state after a judge dismissed a lawsuit by the Illinois Automobile Dealers Association that also challenged sales by EV startup Lucid Group.

In a Dec. 19 ruling, Associate Judge David Atkins ruled the Illinois secretary of state was correct in issuing dealer licenses to Rivian and Lucid in 2021, as it previously had done for Tesla Inc. The state's dealer association argued that only third-party franchisees may be licensed to sell new vehicles under state laws and regulations.

The ruling, which can be appealed, is the latest challenge by dealer groups to the direct-sales model. Tesla is already the biggest luxury automaker by sales in the U.S., depriving franchised dealers of significant revenue. Rivian and Lucid are now following in Tesla's footsteps with direct-sales models, and other EV makers are preparing to do so, such as Fisker and VinFast.
It's almost like dealerships' role as cash-grabbing middlemen isn't actually necessary in any way, and has been made entirely obsolete by innovations like the internet that allow for direct sales! Keep up the lobbying and legal challenges, though, I'm sure that'll make everyone like you more.
5th Gear: Everyone Had A Bad Fourth Quarter Except Those Who Didn't
Sales figures for the end of 2022 are out, and they show some interesting trends. Nearly every automaker is down in sales, but a few manage to stay flat or even grow year-over-year: Rolls-Royce, General Motors (except Buick), Genesis, Polestar, Rivian, Bentley, and Lamborghini. Seems like it's good to be an EV builder, or obscenely wealthy. From Automotive News:
The U.S. auto industry finished 2022 much the way it started — a mixed bag — delivering a solid comeback year for a few automakers and brands but a rough stretch for many others to forget.

...

General Motors, driven by strong light-truck deliveries, reported a 42 percent increase in fourth quarter light-vehicle volume, with sales rising 44 percent at Chevrolet, 42 percent at GMC and 75 percent Cadillac. Buick was the only GM brand to post lower volume in the final quarter of 2022, down 6.5 percent, extending the brand's declines to six consecutive quarters.

...

Genesis Motor America also reported record December sales — 6,172, up 23 percent — helping the brand finish the year with volume of 56,410, up 14 percent.
Click through to the post from Automotive News for the full chart. Even in tmes of economic uncertainty, I guess it pays to sell to the uber-rich.
Reverse: The Space Shuttle Remains One Of The Coolest Pieces Of Human Engineering
Neutral: Imagine There Are No Dealers
What if dealerships just disappeared, replaced by direct-sales models from every automaker? What if all those money-leeching layers of abstraction between manufacturer and customer were removed? What would that be like?
On The Radio: BLACKPINK - "Shut Down"