The Focus ST is a magical european machine that actually makes front-wheel driving a genuine joy. What do you need to know before you buy a Focus ST? Don't worry, we'll tell you everything right here in the Ultimate Buyer's Guide.

Front-wheel drive cars are often plagued with understeer, torque steer, and other traits that you'd expect to be used to describe poorly castrated cattle. This can make the driving experience rather unpleasant and unpredictable, especially when their engines are putting out big power numbers. But the Focus ST somehow manages to crank out 250 stallions (not bovines) and get them to the ground in a way that is actually a whole lot of fun.
And it's about damn time. Our friends in Europe have been enjoying Ford's hot hatch goodness while we've been stuck over here in the U.S. with a ho-hum Focus and no performance model since the forgettable 2004 Focus SVT. But Alan Mullaly's "One Ford" plan united Ford's European and American efforts, finally bringing the U.S. the finely crafted hatchback it deserves.
What It's Like To Drive:
We've reached a point where you actually don't want that much power in a front-wheel drive platform. The closer you get to 300 horsepower the closer you get to the feeling that the front wheels will fly off when you stomp on the gas. That's torque steer and it's a side effect of high power cars that route all their power through the front wheels.
That's not the Focus ST. While there's still some torque steer and it tends towards understeer, this is the easiest to drive HiPo front-wheel-drive car you can buy. It's exactly what you expect from a hot hatch and with 270 lb-ft of torque it can keep up with some bigger performance vehicles.
G/O Media may get a commission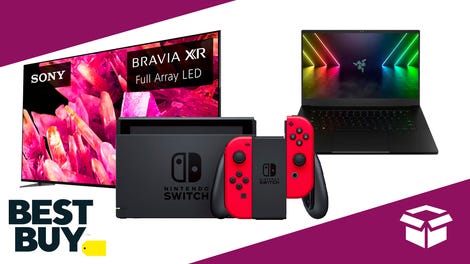 Three Day Sale!
Best Buy - 3-Day Sale
On the street the car is straightforward to drive with excellent feedback from the tires and precise steering. The engine note is great for a little fourbanger and it's available with a manual. It's not the best box on the market, but it has decent clutch feel and it sits nicely in the hand even for tall drivers.
In terms of spirited driving it slots somewhere between the GTI and the WRX, being faster than the former but less extreme than the latter.
What's New About The 2015 Ford Focus ST:
Launched for the 2012 model year in both Europe and the U.S., the third gen Focus was engineered in Germany and sits on Ford's Global C-car platform. But it wasn't until the next year, 2013, that Ford started pumping out Focus STs. Changes for 2014 were minor— there were some new exterior trim and paint options, and that's about it. The 2015 Focus gets a backup camera and some other newness. Patrick George describes this "other newness" in his review, so we'll just quote him:
Ford's bigger ST gets a few tweaks for the 2015 model year. None of it's too drastic, though. The front fascia has been redesigned. The headlamps get LEDs. There's a few new wheels and a new exterior color. The gauge cluster has been tweaked. There's a new flat-bottomed steering wheel that's way better than the old four-spoke unit. And most notably, the ST has new front springs and better shock absorber tuning front and rear to improve handling.
So, not a lot of changes since the ST's debut, but Ford isn't just resting on their laurels. So that's good.
Powertrain Breakdown
There aren't that many front-wheel drive cars out there that crank out lots of power. Usually about 200 seems to be the sweet spot before torque steer makes the car undriveable.
But Ford said "screw it," and threw 252 horsepower at us. And, more impressive, they gave us 270 lb-ft of torque at 2,500 rpm.
For the mainstream out there who finds driving a manual inconvenient, Ford offers an automatic transmission – on their base Focus. So you folks out there who don't like rowing your own gears, step aside and leave this performance hot hatch to the big boys (and girls).
Ford basically said "6-speed manual. That's the only transmission, so get at me."
2015 Ford Focus ST Engine Options

Engine
Max Horsepower (hp)
Max Torque (lb-ft)
2.0L Turbo I4

252 @ 5500 rpm

270 @ 2500rpm
Fuel Economy Breakdown

You know, car enthusiasts often make the joke about "smiles per gallon." It's a phrase meant to communicate that driving excitement far outweighs fuel economy in a Jalop's hierarchy of needs. The Focus ST, though, gives you both the smiles and the miles.
And that's part of the Focus's allure: it's a practical and fuel efficient car. You could daily drive it and actually enjoy your commute, and 26 MPG combined won't make you feel guilty. You can also put kids in it.
2015 Ford Focus ST Fuel Economy Ratings (City/Highway/Combined)



2.0-Liter I4
Fuel Economy- Manual

23/32/26
Standard and Optional Features

Firing up the ol' interweb car configurator, you'll find that a bare-bones base ST costs $25,245 with destination. For that kind of coin, you're getting two liters of sweet, sweet turbo joy, unique ST sport-tuned MacPherson strut front suspension, "Control Blade" rear suspension, a 6-speed stick, electric power steering, 18-inch alloy wheels, climate control, 6-speaker audio system, fog lamps, rear view camera, power mirrors, proximity keyless entry, unique ST interior and exterior trim, front and rear spoilers, center exhaust, and a bunch more.
If you want navigation in your standard ST, that adds $795, and if you want a power moonroof, you'll have to plop down $895.
You can also choose the ST2 package, which is basically the standard car with the 401A option group for $2,990. This includes cornering lamps, dual-zone climate control, HID headlamps, HD radio, RECARO partial leather-trimmed seats with color accents, satellite radio, 10-speaker Sony sound system, and SYNC with MyFord Touch.
The ST3 package is the standard ST with the 402A option group. This means you get everything from the ST2 package, except the Recaro seats are now fully leather-trimmed. You also get an 8-way power driver seat, ambient lighting, heated steering wheel, heated side mirrors, voice activated navigation, overhead console, rear armrest, and keyless entry keypad. All for $4,680 more than the base ST.
Which One We'd Buy

If we're shopping for a Focus ST, we're just getting the base model and calling 'er a day. We don't need the cornering lamps or the fancy climate control. And we don't particularly fancy the ostentatious and over-bolstered RECARO seats. So that means we're only payin' 25,245 bucks for our practical, nimble, fuel-sippin' hot hatch. [Build Your Own]
Important Facts At A Glance:
MSRP: $24,370 Top Speed: ~150MPH (estimated)
Acceleration: ~6.0s to 60 MPG: 23 city / 32 hwy / 26 combined
Engines: 2.0L Turbo I4 Max Horsepower/Torque: 252 hp/270 lb-ft

Curb Weight: ~3,223 pounds IIHS Safety Rating: Top Safety Pick
Transmissions: 6-speed manual Drivetrain Layout: Front Engine, FWD
Photo credit: Ford