UPDATE: We've now got live shots of the Fiesta! Photos and details of the Ford Fiesta sedan were officially released this morning at the major auto show occurring right now. That's right, the Guangzhou International Auto Show. What? Did you think we meant the LA Auto Show? The 2010 Ford Fiesta sedan follows the 2009 Ford Fiesta hatchback that debuted last year in China. The sedan, incorporating Ford's kinetic design language, is an important vehicle globally for Ford, with plans to begin production in Mexico for the North American market next year. For once, Europe will not be getting one of Ford's awesome small cars before us. Instead, they'll be stuck with the hatchback. Suck it Europe. Press release below the jump.

G/O Media may get a commission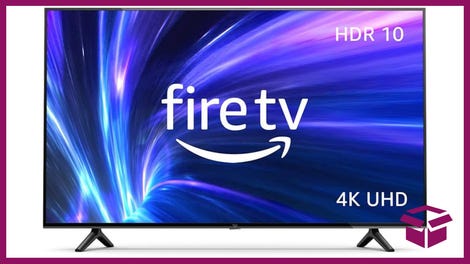 42% Off
Amazon Fire TV 50" 4K Smart TV
Ford Stages Global Reveal of All-New Fiesta Sedan in China * All-new Fiesta sedan features Ford's signature kinetic design language; its exterior clearly inspired by the Verve Concept notchback revealed last year at the Guangzhou Auto Show * Sedan version of all-new Fiesta developed specifically for China with key feature inputs taken from local market research * China to be a significant market for all-new Fiesta sedan, as Ford confirms its leadership with the fuel-efficient, sophisticated small car * Production of all-new Fiesta sedan will begin Q1 2009 at new, state-of-the-art facility in Nanjing, China GUANGZHOU, China, November 18, 2008 – Ford today staged the global reveal of its all-new Fiesta four-door sedan at the Guangzhou Auto Show, delivering in full on the bold promise made by the Verve Concept notchback last year. The dynamic all-new Fiesta sedan features Ford's signature kinetic design elements – introduced to China first on the exciting Fiesta five-door hatchback at Auto China in Beijing in April – demonstrating the versatility of this unique design language and its consumer appeal in important global markets. "We set out to design a truly exciting, desirable small car that exceeds all expectations. Today, we are keeping our promise that was made with the Verve Concept notchback last year," said Chelsia Lau, chief designer of China/ASEAN Programs, Ford Motor Company. "The all-new Fiesta sedan is sleek and contemporary. The interpretation of kinetic design on the four-door body has given the Fiesta sedan an independent identity while retaining the emotional appeal of its five-door sibling. " The Ford Fiesta sedan will be launched in China within months of its global reveal. It will be built at Ford's new, state-of-the-art manufacturing facility in Nanjing. "This Fiesta writes the next chapter in our small car success story and builds on the widespread appeal of the Ford brand in China. Style-aware Chinese consumers will appreciate the uniqueness of this car that expresses their individuality, style and aspirations," said Robert Graziano, president and CEO, Ford Motor China. The Fiesta sedan will be manufactured in China using the same advanced technologies as does its European counterpart. The body structure is manufactured with extensive use of high- and ultra high-strength steels to significantly increase strength and rigidity, while also reducing weight and improving fuel efficiency. These advanced steels also provide Fiesta with an increased measure of occupant protection. The Ford Fiesta revealed today has been tailored to satisfy customer wants in China. Carrying out Fiesta's global strategy, additional variations of the all-new Fiesta sedan will be available across Asia and North America from 2010 with production from Thailand and Mexico supplying these important markets. However, Fiesta sedan will not be distributed in Europe. "Launching the all-new Fiesta sedan to the world in China signals the importance of China and the Asian region in Ford's global strategy, " said John Parker, executive vice president, Asia Pacific and Africa, Ford Motor Company. "This is a sophisticated small car. Design combines with advanced technology to deliver very high levels of refinement, safety and class-leading fuel efficiency. This new Fiesta proves Ford's leadership in small car design and development."
[Source: Ford]