Want a small, cheap, fun-to-drive, economical, practical car? Right now there's not many choices at all and none if you want to buy American. The Ford Fiesta will change that.
Earlier today we picked up this Europe-spec (or international-spec, depending on who from Ford you speak with) 2009 Ford Fiesta and spent a few hours tooling around New York. It's one of 100 being given away for 6-month loans as part of Ford's Fiesta Movement. All 100 were assembled in Europe and as such, it tells the temperature in Celsius and has some kind of sub-FM band along with normal 'merican FM. American sales of the Mexican-made Fiesta are scheduled to start early next year as a 2011 model and will be identically spec'ed to this one, complete with the 1.6-liter, 118 HP engine and European-tuned suspension. We'll even get the five-speed manual transmission.

That engine/transmission combination is good for 39.8 MPG (US) in the European cycle (expect a combined MPG figure in the mid 30s when it gets run through the EPA) and will hit 60 MPH from rest in 9.9 seconds, continuing on to a top speed of 120 MPH.
G/O Media may get a commission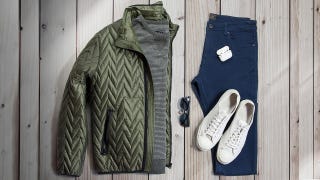 60% off
Jachs NY Fall Sale 60% Off
When Ray pulled up in the "Hot Magenta" Fiesta outside my Brooklyn apartment this morning it was almost shocking how much the Fiesta stood out on the street and not just because of the unfortunately-named red paint. European Fords have eschewed the recent Colonial trend of retro futurism in favor of something that's contemporarily futuristic. In a sea of SUVs and mid-size sedans, the Fiesta's incredibly small, and the crisp exterior makes it look like something from another planet or at least Europe.
Climb into the surprisingly large interior and it doesn't feel like our idea of what a small car should be either. It feels spacious and even, dare I say it, luxurious, an effect created by the large glass house, good packaging and high-quality materials. Ours was clearly an optioned-up version with leather and a nice stereo, but even the base model will benefit from the solid, attractive dash, comfortable seats and room for four adults (five in a pinch). US Fiestas will also get Ford's industry-leading SYNC connectivity system.

Driving up the BQE to our favorite shooting location in Greenpoint, the small exterior size, responsive chassis and perky engine make moving through traffic easy. Small cars like this that don't compromise the driving experience in the name of cutting cost are incredibly empowering in traffic. Vision is good and you can work the gearbox to cut through small gaps in the split second that they open. The trucks, cabs and luxury cars just can't keep up. The Fiesta also rides well across the BQE's constant construction and does a pretty decent job of isolating wind and road noise.
While the Fiesta's official price hasn't yet been revealed, our sources tell us to expect a price point starting around $12,000 and moving into the Focus-overlapping $16,000 range. We'd guess the Fiesta we tested would sit near the top, but we're still shocked by how cheap it is; this design, this space, this luxury, this driving experience feels more expensive than $16,000.
It's hard to know which cars to compare the Fiesta directly to. The Versa, Yaris and xA are priced similarly, but fall into the traditional American small car trap of being pieces of crap. The Honda Fit is a comparable drive and has ridiculous amounts of space inside, but it's more expensive and not as luxurious. The lower end of Ford's US-spec Focus overlaps the upper end of the Fiesta's price range, but the Fiesta feels more expensive, not less.
For years nearly every auto journalist in this country has been calling for Ford to replace its partially lackluster US range with its world-beating European cars and now, first with this Fiesta, then with the next-generation Focus and Mondeo/Fusion, all new Fords will be built on global platforms. There, despite facing stiff competition, nearly every one of Ford's vehicles is a clear leader in its class. That's because the European arm sets out to build great cars. American Ford has finally acknowledged that it too can build great cars, by bringing design and engineering over from Europe. Sure, that's a somewhat convoluted approach, but if, like with this Fiesta, they can sell genuinely exciting vehicles at a more-than-competitive price point, we don't care how they do it, we just want them. Now.