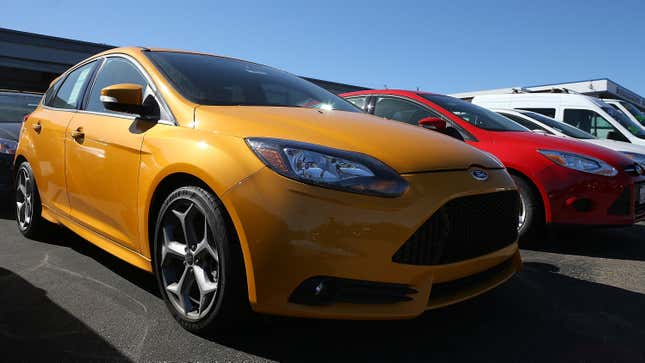 Around the world, 1.9 million customers who bought a Ford Focus or Fiesta are taking the automaker to task for selling faulty cars to unsuspecting customers. Ford is facing a potential $4 billion lawsuit, though the company denies knowingly selling poorly built cars.

Ford customers specifically found problems with their 2012-16 Focus and 2011-16 Fiesta sedans. According to the legal filings, the dual-clutch transmissions were prone to "shuddering, slipping, bucking, jerking, hesitation while changing gears, premature internal wear, delays in downshifting and, in some cases, sudden or delayed acceleration," the Detroit Free Press reports.
This is a huge complaint. People have been unhappy with Ford's gearboxes for years, including plenty of readers here at Jalopnik.
That's not the ideal experience to have behind the wheel of your car. Ford's lawyer Ryan Wu argued last month during a U.S. Court of Appeals hearing that judges that they should lower the settlement from $4 billion to $35 million. Judges argued that Wu's settlement was unfair to the millions of customers who were affected by their faulty cars. More from the Free Press;
In a statement to the Free Press on Wednesday, the company said, "Ford is committed to providing our customers with top-quality vehicles. We continue to deny the allegations in this lawsuit, but rather than continuing with the litigation, Ford entered into a settlement agreement with lawyers representing these plaintiffs. That settlement is fair and appropriate and we look forward to final court approval."
The Ford Focus has frequently been one of the best-selling cars in the world, according to Forbes. Ford has already been penalized globally for its faulty transmissions, setting a precedent for a potential US ruling, the Free Press reports:
The company engaged in "unconscionable and misleading or deceptive conduct" and made "false or misleading representations in its response to customer complaints," according to the Australian Competition and Consumer Commission. It hit Ford with a $10 million fine (about $7.5 million in U.S. dollars) on April 26, 2018, in response to the company's handling of thousands of complaints between May 2015 and November 2016 — one of the largest fines in Australian history handed down under consumer law.

"In most cases, Ford refused to provide a refund or a no-cost replacement vehicle to consumers, even after vehicles had undergone multiple repairs that had not resolved consumers' complaints," Rod Sims, commission chairman, said at the time.
If you're wondering where that $4 billion number comes from, it was proposed by Wu in court as the amount that would recompense every owner of a faulty vehicle. He also noted that, in many class-action lawsuits, only three percent of plaintiffs were recompensed—hence his proposed $35 million number.
But the difference in this case isn't just the faulty manufacturing. It's the possibility that Ford was well aware of the problem and did nothing about it, in fact going out of their way to hide the issues. In cases such as these, companies usually get hit with higher penalties.
A conclusive ruling will likely come in December of this year.