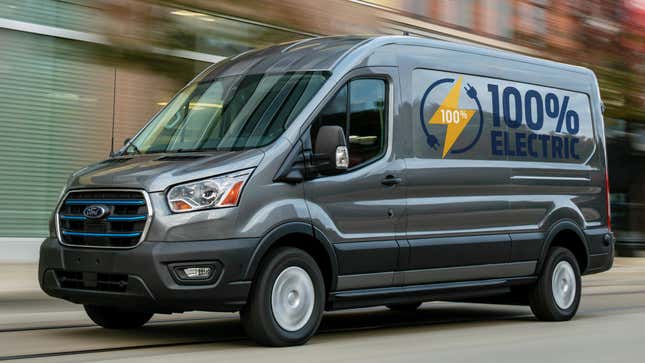 If you've ever owned an electric vehicle, you've probably noticed the range benefit that comes with turning off your heat or air conditioning. As long as temperatures are relatively moderate, it's no big deal. Just wear a sweater when it's chilly, and you'll be fine. But when temperatures get low enough, you're going to want that cabin warm enough to be comfortable. So Ford's engineers have been studying alternative methods for heating the cabin that may be more energy efficient than simply running a traditional heater.
Ford Has Built 150,000 Mustang Mach-Es Already
Motor1 reports that Ford's engineers have been using electric E-Transit vans to study heating interior panels to increase range. That includes heating more traditional things such as the seats and the steering wheel that the driver actually touches. But what's more interesting is that they also experimented with heating other interior surfaces that radiate heat throughout the cabin. The results reportedly show a 13 percent reduction in energy used.
This research was done as part of a larger study on how a variety of factors impact an EV's range, including weather, traffic, and road conditions. That should help Ford better estimate range for individuals, but it reportedly sees bigger value for fleet operators, giving them a more accurate estimate of how much range individual routes will eat up based on the van's cargo load. It'll also improve Ford's ability to provide "eco-routing" that picks the best route to a destination based on time of day, charging needs and other factors.
We're not exactly talking about world-changing range figures here based on incredible groundbreaking technology, but small improvements here and there still add up over time. Especially in commercial applications where drivers are typically traveling a lot further every day than the average American does.