This is the Morning Shift, our one-stop daily roundup of all the auto news that's actually important — all in one place at 9:00 AM. Or, you could spend all day waiting for other sites to parcel it out to you one story at a time. Isn't your time more important?
---
1st Gear: Ford CEO Is $34.5 Million Richer This Week
Ford CEO Alan Mulally is $34.5 million richer thanks to shares granted two years ago vesting this week. Mulally made $26.5 million in 2010, making him the ninth highest-paid CEO in the U.S. last year, according to Associated Press calculations. Although the UAW, predictably, is upset over the Ford CEO's huge package, the automaker says Mulally's pay is fair because it's tied to the shares' success. "Our compensation philosophy is to align the interests of our leadership with those of our shareholders," Ford said in a statement. "Ford's stock was $1.96 a share at the time of the 2009 awards, and is over $12 a share today. That is a more than a 500% increase, which benefits all stakeholders in the Ford turnaround." Here's the math: Mulally was given 4.8 million stock units for his performance in 2009, a pivotal year in Ford's turnaround when it posted its first annual profit since 2005. Ford withheld 1.9 million shares for taxes. The remaining 2.85 million units were converted to shares worth $34.5 million at today's closing stock price of $12.09.
---
G/O Media may get a commission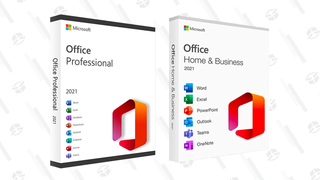 95% off
Cyber Monday - Lowest Price Ever - Microsoft Office Lifetime License
2nd Gear: Chrysler IPO May Come Soon, Export Profits From Detroit
Remarks by Fiat and Chrysler CEO Sergio Marchionne on Tuesday indicate an IPO could happen sooner than he has suggested previously. "We have now created a corporate governance system that's effectively capable of handling a public U.S. listed company," Marchionne told WJR host Paul W. Smith on Tuesday at the Geneva Motor Show. So why is now the right time? Well, maybe because Fiat, which owns 58.5% of Chrysler, is struggling in Europe with a debt crisis that has contributed to a decline in new car sales. In 2011, all profits for Fiat and Chrysler came from Chrysler. An initial public offering could give Fiat a chance to raise much-needed cash by selling some of its stake to the public in exchange for cash that the Italians can then "Export from Detroit." I feel like I saw this happen once before. Except the company was Cerberus. Oh, and before that too. Except that company's name was Daimler-Benz. Chrysler's Phoenix-like circle of life continues.
---
3rd Gear: Mopar Mansion Dubbed National Historical Landmark
This morning we learn from the Detroit Free Press that a big mansion out in Rochester Hills built by the widow of John Dodge was designated a National Historical Landmark. More recently, the mansion has been home to fancy weddings from time to time and used to be home to the Concours d'Elegance. That's right, we're talking about Meadow Brook Hall, and Curbed Detroit has a few facts here on the estate built with Mopar money.
---
4th Gear: Ford Mails 300,000 USB Sticks To MyFord Touch Owners
Annoyance with MyFord Touch was the big reason that Consumer Reports dropped Ford from fifth place in 2011 to 10th place on this year's Automaker Report Card. The automaker also plummeted to 23rd place, from fifth, in the most recent initial quality survey by J.D. Power & Associates. Both surveys showed poor scores for models with MyFord Touch. To rectify the problem, Ford just mailed out 300,000 USB sticks to everyone who's bought a recent touchscreen-enabled FoMoCo product. But don't worry, with a new iPad coming out today, they'll likely be sending out another USB stick shortly. How much does a stamp cost these days anyway? If you end up getting one of the USB sticks, drop a picture in the comments below to show us all.
---
5th Gear: Dodge Wants To Avoid April Fool's Day Jinx
Fiat and Chrysler CEO Sergio Marchionne said yesterday at the Geneva Motor Show that the automaker may push back the production launch of the Dodge Dart from April 1st. Why? Well, "to avoid being jinxed" by an April Fool's Day launch, of course. I don't think there's usually a "jinx" that comes with April Fool's Day. But whatever, maybe this is the practical joke and it really is launching on April 1st. Or could it be that's what they want us to think? I don't know — now I'm confused.
---
6th Gear: Chrysler To Certify Pre-Owned Cars From Other Automakers
Chrysler will offer company-backed warranties on used cars built by its competitors. The Toledo Blade tells us that the Auburn Hills, MI-based automaker rolled out a program this week to let dealers award certified pre-owned status — and the associated warranty that comes with it — to select cars from rival manufacturers. Chrysler first made the "Diversified Certified" program available to its Fiat dealers, but the plan is to expand the plan to all the automaker's dealerships within 60 days. But it's not really aimed at helping dealerships sell more used cars from other automakers as much as it is to help Chrysler dealers sell more new Jeeps, Dodges, and Fiats. See, someone's more likely to — if they have a good experience with a CPO car — to buy again from that dealership, and hopefully that'll mean a Chrysler product. Or they're just really worried about used late model Chryslers. I would be too.
---
Reverse:
⏎ Will Power puts out own engine fire. [ESPN]
⏎ The rise of the mini-MPV. [Top Gear]
⏎ With New Hardware, Square Begins Taxi Rollout. [New York Times]
⏎ Small is big at auto show. [Detroit News]
⏎ Skoda SUV "next logical step". [Autocar]
⏎ Automakers put snarl in small car design. [AP via CBS News]
⏎ Who would you buy a car from? Voters say Santorum. [LA Times]
⏎ Expect Car & Driver's April Fool's Day joke to be about reviving the Chrysler TC by Maserati. [TorqueNews]
⏎ Thanks for all the well wishes everyone! I really appreciated the outpouring of kind words.
---
Today in Automotive History:
On this day in 1938, Janet Guthrie, the first woman to compete in the Indianapolis 500 and Daytona 500 races, is born in Iowa City, Iowa. [History]
Photo Credit: Mike Levitt / AP
Show us your tips!
Got tips for our editors? Want to anonymously dish some dirt on a competitor? Know something about a secret car? Email us at tips@jalopnik.com.
Lost in our new layout?
Click here for the Opposite Lock or Tips forums. Want a more "blog-like" look? Click the button up top next to "Top Stories."
Get more Jalopnik!
Want even more Jalopnik? Want to know which of your friends read us? "Like" us on Facebook and follow us on Twitter.