Today's Nice Price or Crack Pipe Chevy C/K was customized to be even more visually entertaining than the Ferrari it once towed. Let's see if this Truckarossa's price is something equally entertaining.
Canada seemingly has it all: a national leader that's hunky rather than humpty-dumpty, delicious Poutine, and—as we saw just this past Friday—a custom 1999 BMW 740i with a manual transmission. Not only was that an exciting prospect, but owing to the monetary conversion rate its eight-grand price tag offered an additional pleasant surprise when changed into Yankee bucks. All that conspired to earn the workaholic E38 a solid 66% Nice Price win. Wait, not it didn't! Never mind, we rechecked and yes it did.
Seeing as we seem to all like cars with a little custom in their blood, let's have a look at this 1993 Chevy one-ton crew cab as it takes custom to the a whole 'nother level. The ad notes that the truck was originally commissioned by a "wealthy businessman" to be used as a tow vehicle for his Ferrari.
G/O Media may get a commission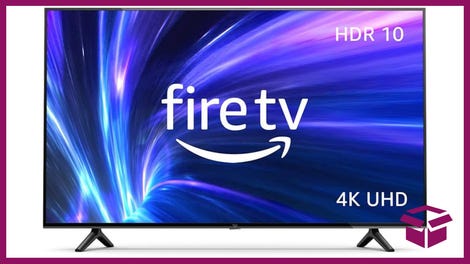 42% Off
Amazon Fire TV 50" 4K Smart TV
Whether that Ferrari was a Testarossa is not divulged in the ad, but regardless, that's the car this truck is potentially trying to emulate. Or, maybe it's an IMSA Mustang, I can't tell you for sure.
What I can tell you is that after doing tow duty the truck ended up in a museum in Arizona. The ad tells us just that. Now that it's out it's a little less than museum quality, and it's funkier than George Clinton's underwear drawer.
Let's start with the aesthetics. The custom bodywork appears professionally executed and surprisingly well proportioned. Check out the little details like the rolled lips on the extended fenders. Nice!
The ad notes some peeling clear coat on the Rosso paint, and we can see some other issues as well—scrapes in the extended fenders, and lifting window trim (why do they all do that?) among them. Nothing here is too egregious, however.
The interior has been spiffed up some too. In there you get leather seating surfaces and a whole lot of wood appliqués throughout. The driver's throne is in need of some stitch work, but other than that it's all fairly tidy. And boy is it roomy in there. You could hold an all-day orgy in one of these things and never meet all the participants.
Mechanically things are a mixed bag. The truck runs the GM/Detroit Diesel 6.5-litre turbo V8 which was good for about 215-bhp and around 440 lb-ft of torque. It's also an engine that has a reputation for being a pussycat if you maintain it right, and a money pit if you don't. The question with this one is, what kind of shape is it in now after having been a museum piece for a number of years?
Behind the mill is a four-speed automatic and the one-ton truck has a dually back axle. You might not have noticed that as it's cleverly masked by the Ferrari-esque fenders. The ad claims that the truck "runs and drives excellent" and it comes with just 42,000 miles on the clock.
Like many manufacturers, Ferrari at one time built special transporters for their racers, and one of those would set you back a princely sum today, if you could even find one for sale. Here we have a Ferrari themed tow rig and it comes in at only $9,750.
You now need to decide if that price and the truck are worth anyone dragging out the checkbook. What do you think, is this custom Chevy worth that kind of cheddar? Or, for that much would you give this big tow the boot?
You decide!
Portland OR Craigslist, or go here if the ad disappears.
H/T to Civardi for the hookup!
Help me out with NPOCP. Click here to send a me a fixed-price tip, and remember to include your Kinja handle.