Do the words Ford Racing pique your curiosity? Today's Nice Price or Crack Pipe FR200 was built by the company's racing arm, but never really turned a tire on the track. Let's see if this one-of-three parts bin specials comes with a price that might have you even curiouser.
You're no doubt familiar with the old stereotype of good girls gravitating to bad boys with the intention of thrilling to their dangerous exploits while simultaneously planning on changing the less desirable aspects of their characters. It never quite works out that way.
I am reminded of that when looking at yesterday's 2000 Porsche 911 Millennium Edition C4 and the 61% Nice Price win that car achieved. Yes, any 911 is going to be desirable, but that one likely held some tears in store for its next owner. I think they're in the glovebox.
Of course if you're going to cry over a car why not shed tears of unmitigated patriotism rather than of inconsolable lamentation? Today we have what is described as one of three 2000 Ford FR200s designed by Ford Racing (yay!) and built by McLaren Vehicle Development.
G/O Media may get a commission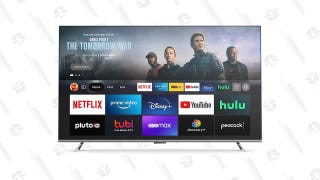 Save 46%
Fire TV 55" Omni Series 4K UHD Smart TV
If that doesn't get you waving the stars and stripes and talking like John Wayne then maybe this particular car's wild flag-themed paint job will. Actually, considering the controversy that flag burning engenders, perhaps presenting Old Glory in flames wasn't such a good idea.
Ford intended the FR200s as test beds for parts that could be added to the company's Focus subcompact in the interest of improving performance and handling. They were also only the third project to carry the FR name, the others being the FR100 retro-mod pickup truck and FR500 Mustang.
What Ford hath wrought here is a Focus that sends more than 300 brake horsepower on their merry way through a five-speed manual and eventually to its front wheels. That's done by way of a 15-psi intercooled IHI turbo on its two-litre Zetec four and a bunch of other go-faster bits playing along. Those front wheels saw some attention too, having been moved outward four inches on a custom double A-arm suspension. That of course necessitates a wide body kit to maintain the car's modesty.
Said body kit includes a number of other unique elements including a reshaping of the entire rear half of the car that changes the window profile and provides for the inclusion of Focus four-door tail lamps in place of the hatchback's high-mounted units. And of course there's the expected massive wing because YO!
The flaming flag motif continues inside where it extends to the seats and door cards. In fact, it looks like you're riding along inside Captain American's underpants in this car. There's what look to be four-point harnesses on those seats and a strengthening strut behind them which should make getting in the back seat a task that requires herculean limboing skills. A 570-watt JBL sound system seems ready to do battle with the exhaust and the five speed stick makes you an active participant in that fight. The car rocks a grand total of 630 miles on the clock. Yep, six-hundred and thirty.
Everything about this FR200 looks to be in pristine shape. Is it streetable? That's questionable and probably completely dependent on where you live. It appears to be fully drivable, and Super Street magazine once drove another of the FR200s, praising its performance, so it might be pretty fun to take this one for a spin.
The only problem with that might be the price, which is a heady $78,900. That will buy you a lot of other cars with names that aren't as plebeian or smirk inducing as Focus, but then you could always just refer to this wild weasel of a car as FR200 and no one would be the wiser.
What's your take on this rare Ford Racing exercise and that $78,900 price? Does that seem like a good investment? Or, does this FR200's price have you losing focus?
You decide!
Gr Auto Gallery out of Grand Rapids MI, or go here if the ad disappears.
H/T to Mark Luebbefor the hookup!
Help me out with NPOCP. Click here to send a me a fixed-price tip, and remember to include your Kinja handle.