Winter is coming and should you be desirous of a mountain retreat for ski trips you could do far worse than today's Nice Price or Crack Pipe Westy Syncro, as it could let you set up house pretty much anywhere. That is, if its price doesn't set you up for the Poorhouse.
There once was a glorious era of automotive design where cars were wide and were filled with bench seats over low center tunnels that allowed for three-across seating front and rear. The center position, both front and rear, was neither a penalty nor a creepy way to engage in a three-some.
Safety standards have pretty much killed off the front bench seat, and yesterday's 1995 Mercedes Benz S600 did what it could to do the same in back, featuring as it did a pair of extravagant thrones for people who like to be driven rather than drive. Despite that rare option and a glorious six-litre V12 engine under its hood, there wasn't much drive around the price, as the über Benz fell in a 65% Crack Pipe loss.
Okay, so that S600's schtick was that it was exclusive both in its seat count and in who could afford to maintain it. In quite the contrast, today's 1987 VW T3—which literally means the People's Car—should be pretty welcoming to all, no matter where you park it.
G/O Media may get a commission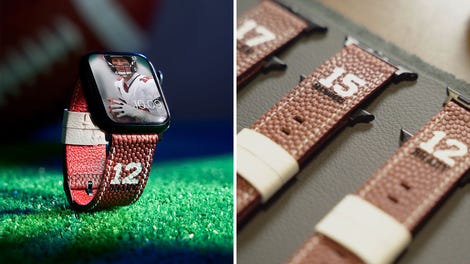 Official NFL PRODUCTS
Official NFL Apple Watch Bands
That's because it's a Westy, and Westies are d'bomb when it comes to a weekend away from your non-mobile home. Not only that but this Westy is also a capable Syncro, featuring AWD and a locking rear diff on the five-speed transaxle. And that's just getting started.
The T3 Syncros were built by Puch in Austria and could be had with a 2.1-litre flat four good for about 110-bhp. This one eschews the VW mill for a Subaru 2.5-litre out of a 2002 Forester, an engine that should give it up to the tune of about 165 horses.
The switcheroo apparently was done by a previous owner, and is not CARB (California Air Resources Board) compliant. It's still a big deal, but not even close to all the work this Westy has seen.
In addition to the hotter mill, there's all new suspension components from Burley that raise both the car and the stakes. Substantial extended bumpers cap the ends, with the front one offering enough space for the spare. The paint is Honda Goldwing red and that was applied to the bus bare-bones so there's little chance of peeking up its skirt and seeing the original hue. A red and grey trimmed interior compliments the paint and looks to be in similarly fabulous condition.
This is the full camper Westfalia not just a Weekender. That means there's a stove and a fridge, both of which are said to work. Hell, aside from a place in private to drop a deuce and read Reddit, it's got all the amenities of home.
The pop top pops, and popping a pair of folding chairs under the nice Sunbrella awning will make any locale feel like home. Most everything on the 165,000-mile Westy is either new or rebuilt, and seems to have been well considered in the process.
The major issues noted in the expanded description are manual mirrors and the Subie A/C needing a can of R-134 to be added. Other than that, it seems ready to be the ultimate zombie apocalypse/prepper/snowboarder/antisocial loner/Richard Kimble base station.
Of course all this doesn't come cheap. And in fact Westy Syncros are never-ever cheap. Just check out this well-worn example at $35K suggested by fellow Jalop, Elana Rabinow-Hughes. Yikes, I know. I wonder if it comes with a free tetanus booster?
This one's a little more pricy than that. Okay, a lot more. but it's in remarkably better shape, less the mirrors, A/C and CARB issues. That price is $68,000, and yes, you could buy a brand new Boxster for that, but could you live in it? I didn't think so.
Let's see what you think about that $68,000 for this Westy Syncro as it's presented. Does that seem like a fair—if still crazy—price for this handsome home away from home? Or, is that just too much to throw out the welcome mat?
You decide!
Humboldt Craigslist or go here if the ad disappears.
Help me out with NPOCP. Click here to send a me a fixed-price tip, and remember to include your Kinja handle.