I'm going to start right out here and say that today's Nice Price or Crack Pipe Comanche is not for you. Not in a million years. But, that doesn't mean you still can't pass judgement on its asking price.
When it comes to cars and trucks, immutability is not a word seemingly resident in most owners' vocabularies. That was evidenced yesterday with a 1968 BMW 2002 modified with a Honda F20C. Unfortunately, that apparently was not change we could believe in as the ad's description brought more questions than it answered, and that Bimmer went down in a 58% Crack Pipe loss.
When it comes to change however, yesterday's old school with a new rule BMW can't hold a candle to today's Dee Snider on acid 1987 Jeep Comanche. Let's take a closer look, shall we?
The Comanche pickup was derived from the Cherokee SUV- no mean feat if you ask me as the Cherokee was a unibody design and pickups are typically body on frame. The MJ Comanche however is also a unibody design like a VW Caddy or Dodge Rampage, only with a separate and removable bed.
G/O Media may get a commission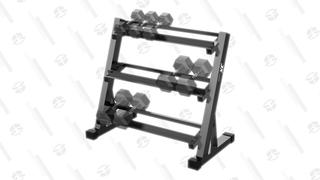 20% Off
JX Fitness Dumbbell Rack
Gains but tidy
Has a three-tier design to help store more weights more conveniently, can safely support up to 1000lbs of weight, which should be enough for most people, has a triangle base for stability, and also features anti-scratch feet which is great if you've built your own studio or workout in your garage.
This one has had had a good deal of that bed cut away, the rear edges now artistically crafted into verdant flames as though some cruel individual has lit Kermit the Frog ablaze. The funny thing is, those green flames are probably the least startling aspect of this custom truck's ass.
Small pickups are generally considered to be less utilitarian than their full size brothers, but this one is completely useless for trips to the Home Depot or even to get your prescription refilled. The complex of exhaust options in the bed is the challenge, as is the pirate emblazoned wing that brings only one thing to mind - hook'em Horns!
You might think that this truck was built only for show, there being no aspect of it left original. Instead it apparently also has plenty of go as well, seeing as it's been fitted with a bumped out 383 SBC. That's backed up with a THM400 and shifting gets done via a T-handle job in the skeleton infused and very yellow interior.
The ad claims 450 horses, and that the chop top truck is quick. I don't know but it seems like half the crap on it might come flying off even at freeway speeds so perhaps that engine is overkill.
The Chevy mill may be a rocker, but it doesn't dress the part, and in fact in comparison to the remainder of the truck it's a bit of a plain jane. At least it looks better than the foam insulation stuck on the firewall which makes the underhood view look like a backwoods meth lab trailer. Also somebody got jiggy with the hole saw in there.
Look, as I said at the outset, this isn't a truck for you. Well, maybe it is, I don't honestly know that for certain. What I do know is that any time you personalize a vehicle, while making it more intrinsically valuable to you, it becomes ever less so to others. This one has gone so far down one dude's rabbit hole that it's general appeal is certain to be limited. But like a terrible train wreck or celebrity sex tape, it just can't be ignored. As such, you need to determine if its $6,999 price tag is a deal for. . . well, someone out there.
What do you think, is $6,999 for this custom Comanche a bargain? Or, is that a price that needs to be customized too?
You decide!
Peoria Craigslist, or go here if the ad disappears.
H/T to Dan Driscoll for the hookup!
Help me out with NPOCP. Click here to send a me a fixed-price tip, and remember to include your commenter handle.