There have been lots of Shelby homages created over the years. And while Cobras and Mustangs have been the typical targets, today's Nice Price or Crack Pipe Dodge shows that even mini-truck restorers can go on a Shelby rampage.
Unsurprisingly, yesterday's torkalicious 928 spooled up a lot of discourse and eventually blew a flaming 56% Nice Price win out its hood. While that Porsche's helicopter motor should be able run on anything from kerosene to used KFC Original Recipe buckets, what all of you shrewdly recognized was that the car itself fed on insanity- seen as a plus by some, and inimical by others.
Today's candidate is nowhere near as much of a whack job as that Porsche, but it's still kind of crazy that cars like this 1984 Dodge Rampage remain on the road. Carroll Shelby has spread his seed far and wide over the years, and in the '80s, Lee Iacocca was pimping Carroll's name on nearly everything that Dodge could loosely screw together and roll out to the dealer lots. One of the best remembered of these was the Omni-based GLH (for Goes Like Hell) and the follow up GLHS (for Goes Like Hell, So'more). These limited edition performers were made available in either the Rabbit-aping five-door, or the massively hatched 024 three-door. One more model was added to the mix in '82-'84, that being the coupe-based Rampage pickup, which went simply by the name Shelby Rampage. Specially built by Carroll Shelby's company in Santa Fe Springs, the cars and trucks evidenced the same kind of modifications that Shelby had been making to Mustangs nearly two decades prior, and ratcheted up the performance considerably.
It should be noted up front that this Dodge Rampage is none of those things. That's not to say it doesn't have some performance upgrades, or doesn't look the part, however. A quick check of the little black truck's VIN indicates that this Rampage left the Belvedere, IL plant in 1984 sporting the 96-bhp 2.2-litre four under its hood. Since then, it has been the recipient of a rebuilt 2.5-litre turbo four, and that longer-stroke derivation of the 2.2 made a healthy 150-bhp when introduced in 1989.
G/O Media may get a commission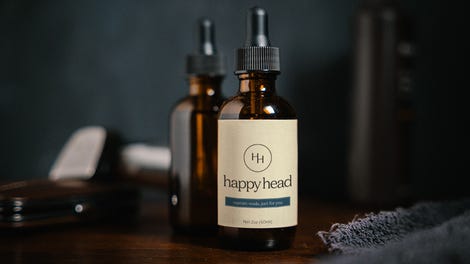 Adding a little show to the go, this Rampage rocks some shiny black paint with charcoal dashed side stripes and an even shinier set of GLHS alloy rims. A hard tonneau and bed rails dress up the back, while the cabin's deep tinted windows keep your secrets when you drive.
Inside, the flat vinyl buckets and jutting instrument binnacle shout '80s stilted styling, and the blue and gray color scheme feels about as cheerful as a prison conjugal trailer. But what you might find really depressing sits between the two-tone seats, and that is the stiff little stick that connects to what is most likely Chrysler's A413 3-speed transaxle. That, along with the fact that this isn't a Shelby Rampage - but kind of wants to be - calls its value into question. On the flip side, these little trucks have always been sort of geeky-cool in the same way that the VW Rabbit Caddy was. Its relatively light milage - a claimed 67,107 on the clock - plays in its favor, and, as it's one of only about 3,000 Rampages built that final year, it has rarity on its side, too.
So weighing the good versus the bad, it's time to put the hypothetical money on the line and see if you think this seller's asking price is crazy good or bast-shit insane. In the case of this Rampage, the wrap it up, I'll take it requirement is $6,000. Now it should be noted that this very same Rampage is being offered on eBay without a By It Now, and the bidding has gotten all the way up to $4,025, not far off that six grand.
But what's your vote, is it worth six large to go on an automatic Rampage? Or, is that price, like this truck's Shelby aspirations, out of reach?
You decide!
Help me out with NPOCP. Click here to send a me a tip, and remember to include your commenter handle.