The Datsun 620 is arguably one of the best-looking mini trucks there ever was. Go ahead, try and argue it! Today's Nice Price or Crack Pipe '73 is restored and looking all the sweeter for it, but is its price equally pleasing to the eye?
So the rumor floating around last week was that Nissan was going back to the old Frontier for their next generation pick-em-up truck. Riiiiight. That's not happening, but what if they had set the way-back machine for the groovy '70s and had instead chosen to resurrect the brand's most awesome pick up, the Datsun 620. How would that work for you?
Well, screw Nissan and their weird time travel rumors because today we have the real deal, an awesome-looking 1973 620 that's said to be one of a kind. Pretty much restored from bumper to bed, this short-bed mini truck is refreshing for being mostly stock when compared to a lot of the alternatives offered out there.
G/O Media may get a commission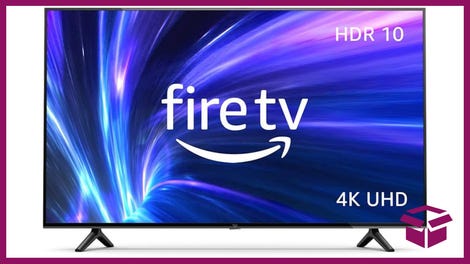 42% Off
Amazon Fire TV 50" 4K Smart TV
The 620 was introduced for the 1972 model year, and continued on with few physical changes or additions until its demise in '79. Along the way an extended cab model was added and engines likewise grew in size. Remarkably for the mid-seventies, those mills also increased in horsepower year over year, in stark contrast to the rest of the industry which seemed to be bleeding ponies as ever stricter emissions requirements were imposed.
Being a '73, this one should be rocking the tried and true L16 which the factory pegged at 96-bhp. Later years benefitted from upgrades to the 100-horse L18, and then eventually the 110-pony L20B. As a cool bit of kit for an old truck, this one comes with a five-speed stick backing up that OHC four.
As noted, the truck has been restored, and very nicely I might add. The metallic paint is an awesome shade of '70s muted green which goes well with the polished aftermarket wheels and the black textured bedliner. Everything looks straight and complete with the exception of some missing badges, the exclusion of which was most likely a decision made to declutter the lines during the resto.
The interior is equally up to the task, featuring a pair of old school vinyl buckets and a restored dash that must have cost a pretty penny. The presence of an aftermarket tach - slotted into one of the instrument binnacle's three holes - and a center tunnel e-brake are notable additions.
The ad claims the odo reading is 13,000 and that's obviously not the whole story. It probably doesn't matter how many miles the truck has driven overall as it seems to have been gone-over not all that long ago.
How long this one will be on the market is anyone's guess as the present owner is emphatic that he doesn't WANT to sell it but needs the cash for another project. It's sort of a Sophie's Choice sort of thing, I guess.
Well, he may not want to sell it, but that's not our concern. What we want to know is whether, at his $5,800 price tag, anyone will be interested in buying it. He says low-ballers need not apply, which leaves out un-neutered dachshunds, but for the benefit of the rest of us, what do you think about this truck for that price? Is that a price that woudl have you coming back to this Datsun? Or, is that too much for this already made bed?
You decide!
Stanley Cup Champions' Craigslist, or go here if the ad disappears.
Help me out with NPOCP. Click here to send a me a fixed-price tip, and remember to include your Kinja handle.