The chemical element Mercury is represented by the symbol Hg and the atomic number 80. Today's Nice Price or Crack Pipe Mercury Capri is only a '79, but will you find it to be priced to move like quicksilver?
Yesterday's custom 2012 Caddy CTS-V by Canepa likely is not quicksilver like, but more like an iron fist punching through pretty much everything in its path. Unfortunately for those seeking to trade their own silver and gold for the fast wagon, 58% of you felt its price to be something even its mighty, mighty presence couldn't overcome.
Do you drink Capri Sun? You know, that sugar bomb beverage that comes in a mylar pouch that looks like the Tin Man's scrote? Well if you do drink Capri Sun - and I'm betting that you won't anymore - I'm guessing that you're too young to have ever driven a Capri like today's 1979 RS.
The Fox-body Capri shifted the model from the Mustang's scrappy and sexy European cousin, to its American near twin in size, appearance, and kit. Ford was pretty savvy in moving Capri production to the U.S. as increasing exchange rate inequities had onerously increased the cost of bringing over the German-built Capri II. Introduced in the fall of 1978 the new car shared its upright grille with its predecessor, and everything else with the new Fairmont-based Mustang.
G/O Media may get a commission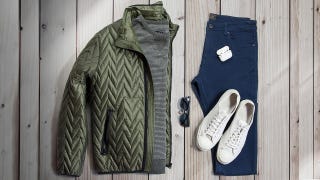 60% off
Jachs NY Fall Sale 60% Off
The differences between the Fox body Mustang and Capri are subtle but numerous. The mercury edition shared the same hatchback body with the Mustang, but not the pony's notch alternative. In addition to the aforementioned grille the Capri also received thin-straked horizontal tail lights and similar sail panel inserts behind the fixed side glass. The biggest difference between the two however was in the fenders which on the Capri were flared front and rear starting at the door, while on the Mustang they were simple bulged arches.
This Vaquero metallic RS maintains its factory stripes on the top of those flares as well as sport badging on its faux scooped hood. There's also a rain catcher spoiler in back and the car rides on a set of TRX wheels in case your heart can belong to no one but Michelin. The bodywork and wheels look remarkably good for a car with 35-years and 95,000-miles under its belt.
Inside, the Capri is equally clean which is even more amazing when you consider just how horribly chintzy these early cars were. I speak from experience as the first new car I ever purchased was a 1981 stripper Mustang with the dull as dishwater 88-horse 2.3, no A/C, and a 4-speed stick. That damn car felt like it was about to fall apart once you hit 80, and it rattled and clunked even when parked with the motor off.
Hopefully this one will prove a little better screwed together, and its 2.8-litre Cologne V6 will provide more entertainment. Stock these motors put out 109-bhp, which may not seem like much from nearly three litres, but keep in mind that the hottest 302 at the time could only muster 140.
Fortunately, the ad notes some under hood upgrades including a Crane cam and a 4BBL carb under a pillbox air cleaner. The Capri alloy valve covers are a nice touch, but the funniest thing is that the alternator appears to dwarf the stoic six. No A/C means that you won't be suffering any loss of power during heat waves, but you will be sweating your ass off.
This is a nice survivor of a model that kind of seems to get lost in the shuffle. The Fox body Mustang is quite possibly the greatest gift to performance-minded cheapskates since the Ford Flathead, and this one is just different enough - and nice enough - that you could take it in pretty much any direction. But is it cheap enough to take?
The seller is asking $5,500 for this Fox-body Mercury and you now need to vote on whether it's worth that or not. What do you think, is this a Capri priced to sell? Or, does $5,500 make this a Mercury not rising?
You decide!
Cleveland Craigslist, or go here if the ad disappears.
H/T to strokeofgenius for the hookup!
Help me out with NPOCP. Click here to send a me a fixed-price tip, and remember to include your commenter handle.