Today's Nice Price or Crack Pipe F350 has a Trump 2016 license plate on its front bumper. It is about the most stereotypically old school all-American thing you could buy, but will its price eventually also trump all?
Do you remember back when you were a kid, your mom would always ask if you had washed your hands before dinner? Yes, you in fact had glanced at the bathroom tap on your way to the table so you assured her that your hands were whistle clean. She invariably would call you on the veracity of that assurance, and upon inspection of your foul mitts would send you back for an some actual germ warfare using running water and perhaps even soap.
I bring this up simply to point out that not everyone's concept of clean is the same. That's an important consideration in light of yesterday's 1981 VW Rabbit Pickup. It was claimed by its seller to be the cleanest in the Northeast, and while we don't really have a baseline against which to compare that assertion, that Caddy was sufficiently jacked up in a number or ways—missing interior trim, wonky front fender, etc.—to make it seem totally specious.
In the end, its cleanliness level couldn't support its $6,999 asking price, and it fell in an overwhelming 88-percent Crack Pipe loss.
And now I think we should wash our hands of the whole matter.
G/O Media may get a commission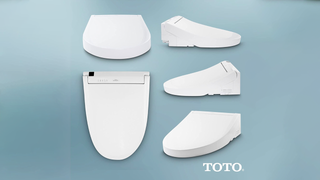 44% off
Toto Washlet Electronic Bidet Toilet Seat
Have you ever needed to tow something large, say a commercial aircraft or perhaps one of the Mount Rushmore heads after having won it in a game of poker? What exactly would you use to do so? Well, should such a need arise anytime soon, don't worry, I got you fam. Check out this 1995 Ford F350 Crew/Dually which is not only built to tow, but has pics in its ad showing it doing just exactly that.
What makes this such a good tractor for your trailer? Well, primarrily it's the Navistar 7.3-litre PowerStroke that lives under the hood that make this a big tow. That 210-bhp/425 lb-ft of torque turbo diesel V8 has a rep for getting the job done. This one is backed up with a five-speed and includes a spate of updated parts that should keep the truck running for well beyond its current 260,000 miles. More on that a little later, however.
Aesthetically, there's some evidence of all those miles. The clear coat is going bye-bye in places, and the ad notes some old Bondo in the body going bad. On the plus side, it has running boards you can actually run on, as well as extendable Chevy trailer mirrors that are so big you could do a Coachella's-worth of coke off of them. You'll need those to see past the dually rear fenders.
The interior is as lived-in as your favorite pair of old blue jeans, and this being a Centurion conversion means it comes with an overhead CB radio and some other niceties. I particularly like the necker's knob on the wheel.
As far as the towing goes, there's a set of rails for a fifth wheel bogie in the bed, as well as a hidden gooseneck and a standard ball out back. The toolbox shown in a couple of the pics is not included unfortunately, but you do get a clean Florida title.
So far you're in love, right? Well, you'll need to know this truck's foibles before you can fully commit. The seller notes that the engine is running a little rough, and is smoking intermittently. Hell, at least it's not vaping.
The real issue seems to be the transmission, which apparently is suffering a failure on the third gear synchro. That or a clutch, the seller's not sure, and according to the ad he's just so done working on the truck. Oh, and that seller seems to really like Trump, so if you don't be prepared to deal with that when negotiating.
Okay, so we've got a pretty unique deal here—a Centurion F350 that's kitted to kill it when it comes to the towing competition. Yes it needs some work—or acceptance of its inherent foibles just like your mom did of you—but overall it seems drivable and ready for modest action. The price is $5,500 which seems "mechanic's special" range, but which we'll now need to square with the truck's description. What do you think, is this F350 worth that kind of scratch? Or, does that price just not "tow" the line?
You decide!
Spokane, WA Craigslist, or go here if the ad disappears.
Help me out with NPOCP. Click here to send a me a fixed-price tip, and remember to include your Kinja handle.