Today's Nice Price or Crack Pipe Olds represents a model once made famous in the movie Get Shorty. This one's painted more for Star Trek, however transmission troubles mean it's not ready for a staring role yet. Maybe its price will prove the big break it needs.
One man's meat is another man's poison. Or perhaps one French man's poisson is another man's… well, I don't know, my French is pretty rusty. At any rate, one man thought yesterday's 1996 Nissan 240SX was well worth its customizations, which included a 'Cuda-aping body kit from Rocket Bunny and a rebuilt V8 out of an Infiniti Q45. Fully 80% of you on the other hand—both men and women—felt its price was pure poison, dropping it in a Crack Pipe loss to get 2017 off to a big start.
Did you watch the two-part The Grand Tour special last weekend, and if so, did you like the bit about (SPOILER ALERT) James May using his DustBuster to clean his Beach Buggy in the middle of the freaking sand-filled desert?
This 1995 Oldsmobile Silhouette isn't that DustBuster, despite it's obvious and uncanny resemblance to the handy foe of woolly boogers everywhere. While not in fact related to The Grand Tour in any fashion, this old Olds does have a couple of movie tie-ins to its credit. First off is its place in the pantheon of movie trivia history as a running joke throughout the comedy Get Shorty that the Silhouette is the "Cadillac of minivans." That's got to be worth some mileage as fodder for discussion in the car pool.
G/O Media may get a commission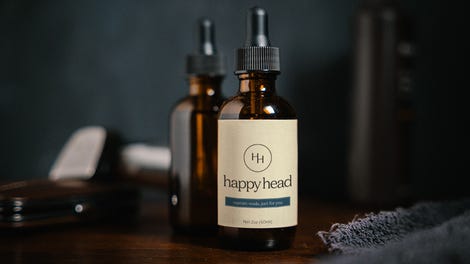 Of course, perhaps even more interesting is the fact that this Olds, which already bears a striking resemblance to something in which you might search for Klingons circling Uranus, is now adorned with Star Fleet Command paint and badging. And Moon discs too! Yes, this is nerd-dom set to warp-factor 11.
First, for those of you too young to remember Get Shorty, Star Trek that wasn't shite, or even Oldsmobile at all, a bit of history. The Silhouette was Olds' version of GM's U-platform vans, which also encompassed the Chevy Lumina APV and Pontiac Trans Sport, and which were the General's answer to Lee Iacocca's Chrysler people movers.
Like the contemporary Pontiac Fiero and Saturn lines, the U-vans were constructed with an innovative steel space frame clothed in dent and rust-resistant composite plastic panels. Underpinning all that was a FWD platform with a transverse V6 engine and an automatic transmission. Like Bizarro World Clark Kent, pretty standard stuff under the funky bodywork.
It's that tranny that proves the fly in the ointment with this Silhouette, as it has apparently gone tits-up. It should be a pretty standard 4T60-E four-speed which was shared with damn-near every mid-sized front-driver GM built in the mid-'90s so replacing it should be pretty much plug and play..
On the plus side, the truck has new shocks and springs, brakes and bearings and a bit of work to bring the engine up to snuff. The interior looks intact, with seven seats worth of burgundy leather and a sliding door that is electric.
Other pluses include a clean title, modest 125,000 mileage, current tags, and the ability to go where no man has gone before. And what would it cost to drive… er, tow this marvelous movie machine home? Well, the seller says $400 if you're willing to cash & carry, or for an extra $100 he'll deliver it within 25 miles of his Bay Area ZIP. Hell, that's better than AAA!
What's your take on this Olds shuttle craft and that meager price? Is that a fair deal—considering the additional cost of a new gearbox—to get your cosplay on? Or, is this movie tie-in van priced to be a box office dud?
You decide!
San Francisco Bay Area Craigslist, or go here if the ad disappears.
H/T to CheapBastard for the hookup!
Help me out with NPOCP. Click here to send a me a fixed-price tip, and remember to include your Kinja handle.