If perchance you should happen to be gangster – as I know I am - you might just need a conveyance that fits your urban-contemporary lifestyle. And while not a 'lac, today's Nice Price or Crack Pipe Audi A8 is fittingly down.
Even though it wasn't a winged Saab Viggen – which by the way, were initially powered by an RM8 turbofan manufactured by Volvo – yesterday's uber low mileage 9-3 Viggen would certainly fly. Unfortunately, as pointed out by a number of you, that Saab's massive, factory-installed torque steer could potentially make any flight a short one, and readily one into a road-side moose. Maybe that had something to do with it being waved off of Nice Price approach, its 65% Crack Pipe vote eventually making for its rough landing.
What that Saab had going for it was its time capsule condition – it's pretty unlikely you'll find another one in such impressively original shape at any price. Today's 2004 Audi A8, on the other hand, is original in another sense of the term.
G/O Media may get a commission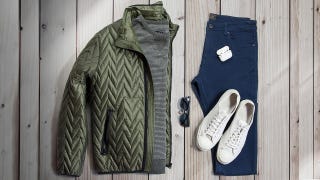 60% off
Jachs NY Fall Sale 60% Off
When it was introduced, Audi's A8 represented a tour de force of aluminum. Co-developed by Alcoa, the A8's alloy structure required special training of body shops to repair, so unique were the properties of the metal and bonding mechanisms. The creators of this one-of-a-kind custom A8 must have aced that class, and gotten busy with the teacher, so extensive are the changes that hath been wrought. Up front, the interlocking rings previously prominently displayed, have been subjugated behind a nose modified to look more like that of the Maybach Exelero and you'll either like it, or you may-barf-alotto upon seeing it.
Rolling around the side, the front doors thankfully have not been scissored, however the rears have attempted suicide- and have succeeded. Those sit between blingtastic 22s, and the whole car rides lower than R. Kelly's age of consent standards. Factory paint is but a memory here, as the A8 has been painted a shade that falls somewhere between root beer and O-negative. The blood mobile look carries over to the interior where the steering wheel and console are similarly vampire hunger-inducing in hue. Countering that, the dash, headliner, door pillars, and very likely accompanying pimp coat, are covered in suede, for that inside of the cow look. The rest of the inside, from the mmi knob-driven navi, to the mmi knob-driven stereo, looks disappointingly stock.
The flagship of Audi's lineup at the time, the '04's sole engine in the States was the 4.2-litre, 330-bhp V8. A six speed Schwinn autobox with slap shifter, and Audi's trademark Quattro drivetrain complete the mechanical tour. No mention is made of changes to any of that, save for the ability of the airbag suspension to Urkel its pants at your command. The seller says the car has 50,000 miles showing, which while it isn't much, it's a safe bet they weren't mostly highway.
Kelly, the Blue Book lady, doesn't have a checkbox for mad fresh, so it's hard to gauge this car's potential value there. Edmunds – being even less hip than Kelly, who actually has a Wu Tang Clan CD - is similarly unhelpful. That means it's going to come down to the seller – who thinks this custom A8 is worth $40,000, and you – who may or may not agree with him - to determine if this A8 is a Gangsta's Paradise. What do you think, for that price would you be singing this Audi seller's praises? Or, does it make you want to pop a cap in his ass?
You decide!
crxsi.com or go here if the ad disappears. H/T to idesigner for the hookup
Help me out with NPOCP. Click here to send a me a tip, and remember to include your commenter handle.