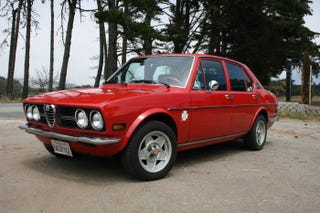 Nice Price Or Crack Pipe
Is this used car a good deal? You decide!
If you buy an Alfa Romeo — any Alfa Romeo — you are going to have to learn chemistry. That's because, as exemplified by today's Nice Price or Crack Pipe Alfetta sedan, you'll have to come to terms with the chemical reaction known as oxidization eating it alive. The question is, will this Alfa's price also eat too big a hole in your wallet?
In comparison to the company's coupes, Alfa Romeo's sedans have alway gotten the short shrift as far as styling has been concerned. While the GTV received handsome Bertone bodywork, and its successor the Alfetta coupe enjoyed tailer made clothes by Giugiaro Design, the concurrent Berlina and Alfetta sedans came to market by way of Alfa's in-house Centro Stile Alfa Romeo. The difference shows, not just in the number of doors.
One area in which all Alfas play on a level field is in the fight against the march of rust, which unlike the March of Dimes doesn't get kids out of wheelchairs unless it's by falling though a rotted floorboard. Today's 1975 Alfetta sedan is no different, and shows a level of encroachment of the tin worm that, while likely might scare off the uninitiated, would probably prove less than daunting to a true devotee of the marque. In fact, this car may just be a good litmus test of whether you're cut out for Alfa ownership.
The Alfetta sedan - along with its platform-sharing coupe sibling the GTV - debuted in 1972. The boxy and practical Stile Centro bodywork hides a chassis that is advanced even today, 40 years later. The Alfetta is rear wheel drive with a double wishbone, torsion bar front suspension. The real show is in the back however where a 5-speed transaxle resides and an non-independent suspension set up is facilitated by a complex de Dion axle arrangement. All that plus inboard disc brakes make for both a balanced chassis along with minimized unsprung weight.
Power here is provided by Alfa's sweet 1,962-cc DOHC alloy four, which with the SPICA fuel injection was good for 130-bhp from the factory. The seller says the engine runs excellent, although few cars are as transient in the quality of their operation as an Alfa so take that with a grain of salt. He also notes a litany of replacement parts that have already gone into the car in addition to a sizable list of things that still need to be done. That includes re-bushing the front end and getting the heater to live up to its name. Again, if you find that kind of required work daunting then maybe Alfa ownership isn't for you.
As part of the ongoing re-alfaromation of the car you can add to the list new seat upholstery and some wiring gremlins that need to be extracted to get the gauge lights up and running again . Scared yet?
On the plus side, it has seen the massive rubber baby buggy bumpers tossed in favor of the thin chrome blades featured on the European models. Those along with the red paint and the sexy Chromodora Daytonas make this Alfetta a beauty from 20 feet. You know what they say however - good from far, but far form good - there's enough rust on the edges of the doors, the trunk, and around the window trim to keep POR in business for a year.
Up close, the road rot gives the car the appearance of a high school sci-fi club member base, but it looks to be mostly cosmetic and not structural, all of which is easily repaired. Why hasn't the current owner taken the time to do so? Probably because he's either had too many other things to take care of with the car, or he's been having too much fun taking it out on the road.
The Alfetta sedan was meant to be driven, and this one, with 130,000 miles on its clock, its current owner to still be able to do so on a daily basis. But he's an Alfa owner, and they're a unique breed , willing to overlook certain idiosyncrasies in order to experience the magic the car has to offer. And for $4,500, you could too.
Now, you may or may not be a candidate for Alfa ownership, and perhaps we should split the voting between those who have been, or are, stewards of the marque and those who aren't. Nah, we're just going to ask you all. What do you think, is $4,500 a price that makes this Alfetta a fair betta'? Or, is this an Alfa for which that's too much alfalfa?
You decide!
San Francisco Craigslist or go here if the ad disappears.
Help me out with NPOCP. Click here to send a me a fixed-price tip, and remember to include your commenter handle.