The term Rat, when applied to a car, implies a certain level of, how shall we say, rattiness that itself implies a focus on function over form. Despite its seller giving it that appellation, today's Nice Price or Crack Pipe Buick Roadmaster is more a whale than a rat, but would paying its price make you batty?
There was nothing ratty about yesterday's 1992 LS1-pumped up E36, and in fact its seller's articulate and seemingly honest ad rivaled the car for clean presentation. Unfortunately it takes more than that to win NPOCP, and at just shy of thirteen grand, it fell in a 67% Crack Pipe loss.
A year older than that Bimmer and also sporting a GM V8, today's 1991 Buick Roadmaster has been used as a canvas for someone's interpretation of what a rat rod's big brother might just ought to be.
A venerated name, the Roadmaster was revived for the huge B-body wagon in '91 after a 32 year hiatus. Differentiated from its Chevy platform mates by grille and light treatments, as well as by a tinted panel over the second row reconstituting the Vista Roof name.

All '91 Roadmasters were wagons, and all of those were saddled with the corporate 5-litre and Turbo-Hydramatic. That meant that they could tow up to 7,000 pounds, but that laden or not, the cars typically drove like an oil tanker.
G/O Media may get a commission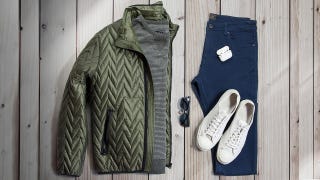 60% off
Jachs NY Fall Sale 60% Off
This one tries to liven up the driving experience visually, including adding flames on the hood, matching red on the steelies, and an incongruous mashup of matte black faux primer and soccer practice car line vinyl wood siding. Considering the Roadmaster's nearly 220 inch length, it does make a statement, I'm just not sure what that is.
On the inside, the custom work continues, with a stock woodgrain dash (the burlwood of which sadly doesn't match the outside panels) facing seats that look like they were fashioned from Mexican party serapes. there's plenty of room in here, with three across seating and an appreciably unobtrusive center hump. Still, those seats.

The last edition of the Roadmaster wagon holds a special place in the hearts of many a car enthusiast, owing to the fact that it harkens back to an imagined age when families crossed the country on vacation, or across the town to celebrate little league team victories.

This particular one has taken that aura of nostalgia and turned up the wick with a  custom paint and upholstery job that also recalls a different era. The question is, at $3,950 does it come with a price that's also appreciably old school?

You decide!
San Francisco Craigslist, or go here if the ad disappears.
Help me out with NPOCP. Click here to send a me a fixed-price tip, and remember to include your commenter handle.