The seller of today's Nice Price or Crack Pipe AMG says that the car's got a few problems and that's why he's asking so little for it. We'll just have to see if those problems outweigh the price.
Speaking of weighing options, some people are considering how they could move from the U.S. to Canada should The Donald somehow overcome both Hillary and his own party and become president. That's a choice those who are horrified of a Trump White House are coming to realize they might have to make.
A benefit of moving to America's Hat is that the dollars up there are smaller than our dollars down here. That would have meant that, while seemingly more expensive, yesterday's 1980 Pontiac Sunbird would have appeared less so when considered in terms of U.S. bucks. That perhaps would have changed its 85% Crack Pipe loss. Um, I think.
We're sticking in the States—at least for today—and in fact we're going to visit the Navy town of Norfolk Virginia, where this 1998 Mercedes Benz C43 AMG presently resides.
G/O Media may get a commission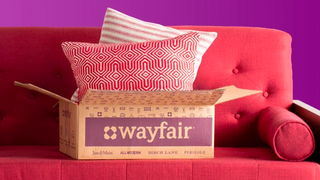 Big deals
Wayfair Surplus Sale
You might recall the C43 AMG, which stuffed an AMG-massaged version of MB's 4.3-litre V8 under the hood of the company's compact W202 sedan. The cars were intended as an answer to BMW's E36 M3, and one-upped that competitor in cylinder count, overall displacement, and ponies.
To do that, AMG tossed the stock intake for one with vastly more capacity and a set of long intake runners. That helped the mill produce 302bhp at 5,850rpm and 302 lb-ft of torque at a low 3,250. To make sure that all power didn't make the tranny shit the bed, it was replaced with an adaptive five-speed unit from the company's V12 cars.
The cars also had a slew of Mercedes' technical tricks up their sleeves, including ASR traction control, ABS, and brake assist.
Suspension upgrades over the stock C280 included stiffer springs and a solid rear stabilizer, but other than that the double wishbone front/five-link rear setup remained. Bodywork changes were limited to revisions below the equator and AMG monoblock wheels. The interior could be had with a two-tone color scheme that included the instruments.
This one has all of that, and all-weather floor mats. It has a white over black and grey interior and doesn't seem to exhibit any major boogers visually. There's 164,000 miles on the clock and… well also a few things amiss.
The seller notes these issues in his ad. Hopefully they are all that's wrong. There's a random misfire pushing a P0300 code on the OBD, which he says his mechanic attributes to a bad coil. There's also an intermittent ESP warning light that the wrencher says might be a bad wheel sensor. The trunk popper as well doesn't seem willing to pop requiring you to go old school and use the key.
The biggest issue is that the catalytic converters are gutted and are there only for show. That makes sense seeing as he's advertising the car on the Internet and everybody there loves cats. Still, if you're needing to pass a smog test to obtain your tags, this isn't the car for you, Smoggy Smoggington.
Some women like to date flawed men, seeing the opportunity behind the issues and thinking they can change them. In most cases, they can't. In this case, you CAN change this rare (one of 1,500 cars brought to the U.S.) Mercedes and make it whole again. That's just a few turns of the wrench after plunking down the $3,600 asking, right?
Well, keep in mind the issues this car exhibits while considering that price. What do you think, is this empty catted, code-throwing, no trunk popping AMG worth $3,600? Or, is the a Benz that's just too broken to ask that much?
You decide!
Norfolk Craigslist, or go here if the ad disappears.
Help me out with NPOCP. Click here to send a me a fixed-price tip, and remember to include your Kinja handle.