With its five doors, five speeds and a turbo four pot, today's Nice Price or Crack Pipe Mazda might have all the right numbers. You'll still have to decide if its price adds up.
I am shocked, SHOCKED I tell you, that so few thought that a wicked-weird rusty-framed French three-seat sports car built for the British market was somehow not worth ten-large in Denver Colorado. Is that what you are telling me? I would guess so seeing as yesterday's 1977 Matra-Simca Bagheera came away with an 80% Crack Pipe loss quashing our hopes for a Nice Price Three-pete this week.
Okay, I'm over it.
You know, while French cars in general - and the Bagheera in particular - have never gained a reputation for durability and longevity, that's an attribute that the Japanese auto industry has pretty much hung its hat on for the past 40-plus years. That means that typically a 20 or 30-year old Japanese offering is going to be in better shape than a similar-aged one from… oh say, GM's former Fremont plant.
This 1987 Mazda 626GT is just such an example of an older Japanese car that doesn't look half bad for its age. Not only that, but this is a pretty cool car owing to the versatility afforded by its five-door hatch body and 135-bhp turbo 2.0 engine. Wait a minute - Utility? Sport? This Mazda is a real Vehicle of Utility and Sport, or VUS for short, and not those goofball trucks that also get the abbreviation so very wrong.
G/O Media may get a commission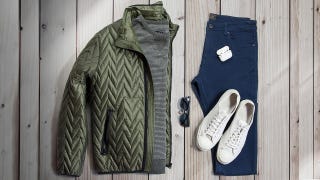 60% off
Jachs NY Fall Sale 60% Off
It's also a one-owner car with less than 100K on the clock and appears to be in stellar original condition. The ad notes that the 1998-cc FET turbo four is just as it left the factory internally, and that the five speed gearbox is still getting things done with its original clutch.
Four-wheel discs and independent suspension all the way around complete the bonafides, and the car comes with a number of luxury and convenience features too- things like a sunroof, power windows and locks, etc. Plus it has that cool (literally) oscillating center air vent in its '80s-tastic dash.
What's not in the dash is any sort of radio, and the ad goes to great lengths to play up how its absence makes the world your oyster, noting that the hole it once occupied is the "sought-after DOUBLE DIN CONFIGURATION..." I like this guy already.
I like the car too, and while it's all original and apparently well maintained - hell, the floor mats even got floor mats to protect them - it still has been upgraded to R132 and has had a number of fixit items addressed. In fact, one of the most perplexing things about the description of the work done on the car is how it could have all been accomplished for only $1,500.
The title is claimed clean and there's no rust seemingly anywhere on the car. In fact the only demerit I can see is a missing spritzer for the curb-side headlamp, and how hard would that be to replace? Or ignore?
There's no ignoring this car's $3,350 price tag and the seller handily includes some values (NADA) to help decide if that's a deal or not. Of course we have our own way of doing things and it's now time for you to do it to this 626. What's your take on $3,350 for this cool old Mazda, does that seem like a total slam dunk? Or, despite the NADA, does this 626's price have you saying nada?
You decide!
Kansas City Craigslist, or go here if the ad disappears.
Help me out with NPOCP. Click here to send a me a fixed-price tip, and remember to include your Kinja handle.
UPDATE: The original ad was pulled, but a new ad with a $100 price reduction has gone up in its place. I've updated the links accordingly.