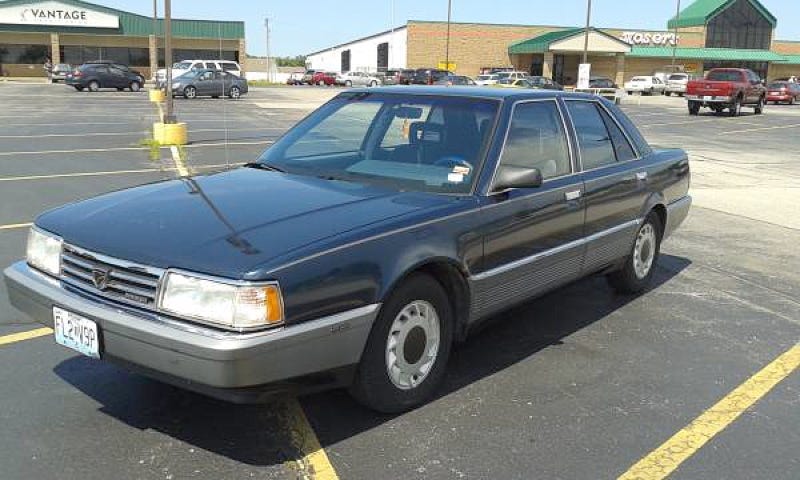 Nice Price Or Crack Pipe
Is this used car a good deal? You decide!
Today's Nice Price or Crack Pipe Eagle Premier is one of automotive history's most notable foster kids, having been shuttled from Renault to AMC to Chrysler before it was even born. Will this rare survivor's price still have you saying to it welcome home?
How OCD are you? Well, I'll bet you're nowhere near as OCD as the original importer of last Friday's super rare 1989 Isuzu Trooper Bighorn Irmscher R. It looked as though every inch had been gone over by a CSI team, giving it the impression of having been maintained in as-new condition. Hell, it was clean enough to eat off of.
That wasn't enough however to make the price set by its current owner palatable, and it went down in an overwhelming 85% Crack Pipe loss. It was a Trooper however, so it will soldier on.
The very same year that Irmscher was pumping up the volume on that Isuzu, Chrysler was looking over the consequences of its agreement to buy AMC and Jeep from Renault. That result included a mid-sized sedan that under Chrysler's guardianship went by the aspirational name Eagle Premier.
The Premier started life as the Renault 25, a car that looked amazingly like the company's Fuego coupe puffed up having been stung by too many bees and having sprouted an extra pair of doors. Knowing that Americans at the time didn't buy big hatchbacks—having equating the form with the cheap seats rides—Renault and AMC asked Giugiaro to pen a more mainstream sedan body. The resulting car was about as dull as dishwater to look at, but held the notable position of being the most aerodynamic sedan sold in America, even beating out the cat turd-sleek Ford Taurus.
While it may not have looked it, the Premier was in fact mechanically one of the most advanced offerings in Chrysler's lineup at the time. The engine was an OHC 3.0 'Douvrin' V6 with 150-bhp and 171 lb-ft of torque. That bested the other 3-litre six in Chrysler's stable at the time, the one provided by Mitsubishi. A four-speed ZF automatic backed up the PVR six and sent power to the front wheels through a longitudinal transaxle.
This 1989 Eagle Premier looks to be in excellent shape and is described in its very shouty ad as actually being one of those mythical little old lady cars that was only ever driven to church on Sunday and the liquor store every other day of the week.
The bodywork is clean with just some minor scuffing on the grey bumper caps and awkward black-painted wheel caps to detract. A fun thing about those polycast wheels: they are a turbine design that turbines one way on the driver's side, and the other on the passenger's.
The interior looks to be in equally nice shape, and this being an ES it sports front bucket seats with a console between. It doesn't however, have a floor shifter. Instead it has one of the bendiest column shifters you've ever seen, one that wraps around the right control pod behind the two-spoke wheel. Cloth upholstery and an orange air freshener complete the picture.
There's only a claimed 55,200 miles on the clock—again, that little old lady—and the seller says that it's been kept in running order as well. The ad notes the recent addition of a number of new parts and more still in boxes should they be needed. That's helpful if your neighborhood is lacking an AMC/Renault/Eagle parts store.
You might note in the ad that the seller makes a claim to this being the car that the bad guys drove in the classic movie Road House, but then walks that back by saying it's the same color and noting 'LOL.' I recently watched Road House again and giggled at the thought of the villain's gang cruising around in of all things an Eagle Premier. The thing of it is, back when the car was new, and Road House was defining Patrick Swayze's career the car was considered a pretty hip ride.
It might still be, and if you've always wanted one, this one right here might just be the last chance to get on the Premier train. To do so, you'll need to come up with $2,500. That's not all that much, but is it a fair price for what's probably the last great Premier?
You decide!
St. Louis Craigslist, or go here if the ad disappears.
H/T to Shitzuki for the hookup!
Help me out with NPOCP. Click here to send a me a fixed-price tip, and remember to include your Kinja handle.