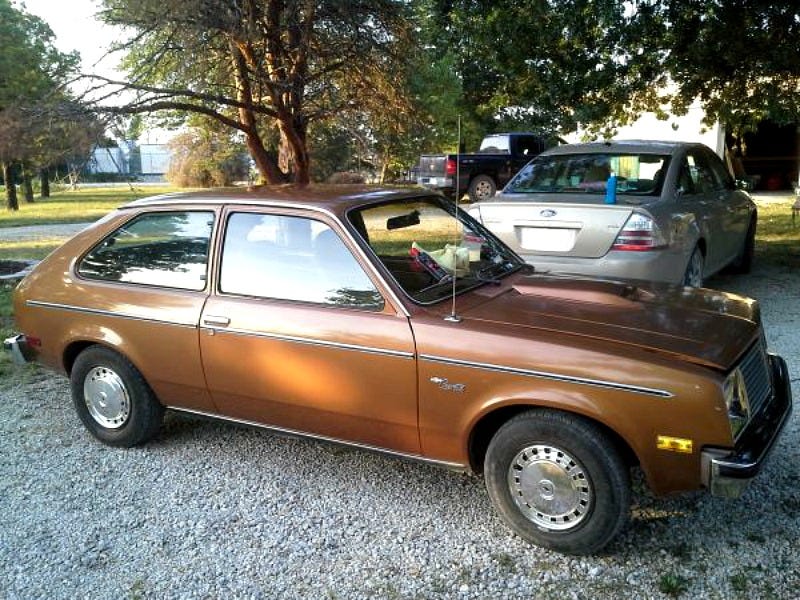 Nice Price Or Crack Pipe
Is this used car a good deal? You decide!
Introduced in late 1975 as the US member of GM's global T-platform, the Chevy Chevette was for a time the lightest production car built in America. Today's Nice Price or Crack Pipe Chevette is somewhat more hefty owing to its Buick mill, but will that addition ensure its price fits to a T?


One way or another, we all want to fit in, but sometimes it's hard. Equally hard is fitting into to cosseting confines of Fiat's classic two-seater X1/9. Doing so is no mean feat, but fully 64% of you were willing to grease up and take the plunge for yesterday's tidy $7,300 edition.

At one time, Chevy's Chevette also offered a two-seat edition, the parsimonious Scooter model. That price leader eschewed such luxuries as a glovebox door, armrests, chrome on the bumpers, and its owner's social standing.

Owning today's 1979 Chevette would still allow you to hold your head high, even at such haughty locales as The Olive Garden, or your judgmental In-Laws' driveway. That's owed to this having been a more fully optioned model from the factory - ooh, carpet! - and for the fact that it now sports a Buick 3.8 in place of its original 1.6-litre wheeze box.


We're all familiar with the Buick six - hell, we had a Ford Courier powered by one just a couple of weeks ago - and it's no surprise that the Chevette's engine bay is sufficiently ample to accept the rowdy beast.

Here that six gets Hooker headers, a brand that not only offers the benefit of better engine breathing, but one of the coolest decals you could slap on a car's back window as well. There's also the expected electronic ignition, a Borla exhaust, and a carb from the house of Edelbrock. It's sort of like the wet dream of every KISS tee-shirt wearing high schooler, only in three-quarter scale.

The Buick mill shakes hands with a TH350 and that gets a B&M ratchet shifter, the T handle of which resides in what seems to be an otherwise stock interior. That means mesa flat seats and dashboard styling simpler than Forrest Gump. There is a three-spoke wheel that looks like it was stolen from the local go-kart track. Oh, and AM radio!


The exterior is equally sleeperiffic, sporting the original polished wheel covers surrounded by chew toy sized tires. The Root beer metallic paint looks to be in pretty decent shape, a fact attributable to the car amazingly having only 58,000 miles on the clock. That's only about 1,800 miles a year, and a possible reason the car has seen its mechanicals upgraded. After all, use it or lose it.


The seller gives no reason for wanting to part with this beauty, and the ad's note that he has amassed an admirable stockpile of extra parts indicates that he's probably had it for a while. But, perhaps like the middle aged dude who wants to trade his forty year old wife for two twenties, the guy's just ready for a change.

The individual assisting in that effort will need to come up with $2,500 to do the deed, and it's now time for you to weigh in on whether or not this Buick-powered Chevy is worth that. What do you think, is this Chevette worth $2,500? Or, is that a price that makes this a sleeper that you wouldn't disturb?

You decide!
Kansas City Craigslist or go here if the ad disappears.
Help me out with NPOCP. Click here to send a me a fixed-price tip, and remember to include your commenter handle.