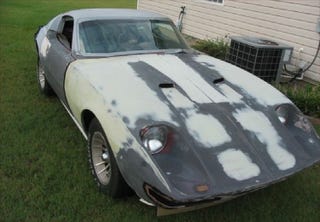 Nice Price Or Crack Pipe
Is this used car a good deal? You decide!
It's long been the rule of thumb here on Nice Price or Crack Pipe that you never, ever buy someone else's project, as you don't know if they were all thumbs. Of course today's Triumph-based Jamaican needs so much work that it conceivably could be considered your project. Its price however, may not get a thumb's up.
Yesterday's Mercedes Benz 280CE was once someone's project, shoehorning a 5-litre M117 V8 under its hood. What it is now - at least according to the 82% of you who voted it down in a Crack Pipe loss - is too waaaay too expensive. That Mercedes has been up for sale for so long it's pretty unlikely somebody will come along who will Benz-over and take it.
When you think kit cars, what probably first comes to mind are fiberglass freak shows clothing Volkswagen's timorous Type I platform. Strike that, you're all probably so young that to you kit car means Fiero-based Diablo knock-offs. Regardless of what YOU think, the history of kit-based specials is long and rich, reaching a boon era during the '50s and '60s for home-built racers that were able to spar with the big boys.
Today's contender isn't one of those, nor, at the moment, is it going to go mano-a-mano with any other car on road or track, as it lacks an engine. Still, this 1967 Triumph TR4A-based Fiberfab Jamaican was created by a company born of that build it on Saturday, race it on Sunday ethos, and when cleaned up is one of the prettiest cars around - regardless of pedegree.
Fiberfab was founded in 1964 by former amateur racer Warren 'Bud' Goodwin with the intention to build fiberglass parts for Street Rods. Recognizing the popularity of Ford's Mustang, a car that being a personal coupe owners wanted to personalize, Fiberfab came out with fiberglass body parts for the pony to do just that, including a slick arrow-shaped nose. A version of that nose would find its way onto one of Fiberfab's most versatile kit cars - the Jamaican. The company produced a number of other kits including the VW-based Aztec and a Ford GT40 homage, the V8 Valkyrie. Goodwin also continued providing fiberglass personalization for various cars and Jay Leno currently owns one of his Corvettes.
Legend has it the Jamaican was named for one of Bud Goodwin's early girlfriends, who was named Jamaica. The body, including that pointy nose, is reminiscent of Lamborghini's sex on wheels Miura, while paying reverence to the limitations of molded fiberglass over hand-beaten aluminum. As noted, the Jamaican body is versatile, having been designed to fit onto either Triumph's TR3-4 frame, that of a big Healey, or the MGA. Additionally, a Jamaican II was offered with mounting points that would fit the ubiquitous VW Beetle. This particular Jamaican sits on a Triumph frame.
The seller notes that the car is not a project in-process but one that has seen completion and since relapsed into incomplete mode. Set up for a Ford V8 under its clamshell hood, this Jamaican is claimed to have had its heart removed for Dick Cheney another project. That means that you don't have to just accept the engine choice of a total stranger - and believe me, people who own kit cars are strange - you can put the motivating force of your choice in the car and enjoy pure driving satisfaction. Other important parts are intact on the car, including what the seller says is a '67 Corvette dash and all the glass. The clear stuff's a bit of a managerie as the windshield is C2 Corvette, the back window is out of a Porsche 911, and the side glass are old Karmann Ghia! The funny thing is, those VW windows are probably the hardest to source these days.
The car is said to have uprated springs and dampers (coil and lever) out back, and comes with a set of turbine wheels. It also has wipers brakes and heat, but does need both an engine and gearbox, plus some other stuff to make it roadworthy. The new tires are claimed negotiable. Also on the down side, while the body is complete, it is rough and in needing of a total prep and paint. It additionally appears that the door handles have been shaved and haphazardly patched making requiring poppers or a reach-around for entry. Neither here nor there, the typical Pinto tail lights have been supplanted by four roundies off of an Opel Manta.
Yeah, this is a little more PCH than NPOCP, and sure, there's a strong probability that raccoons have been making sweet raccoon woopee inside it, but it's still a cool car and one that it would take little more than a weekend's work to get moving, as long as you happen to have a ready and willing drivetrain. Maybe a little longer as you'd probably need to get a driveshaft cut and balanced as well, and to get rid of all the sexy racoon funk.
The funny thing about this Triumph-titled Jamaican is that it would probably be worth more if it still carried the British roadster's clothes. If it did, then it would be one of thousands left rather than the unknowable but probably hundreds of Fiberfab-clad versions. That alone might not make it worth the $2,000 asking price in your book, but perhaps the idea of owning a piece of an American cottage industry will. What do you think, is the Jamaican's price low enough for someone to make it Marley and Me? Or, is this a kit that's too much of a mess?
You decide!
Greenville Craigslist or go here if the ad disappears.
H/T to #2wheelsgood for finding this which led to this.
Help me out with NPOCP. Click here to send a me a fixed-price tip, and remember to include your commenter handle.