I like wagons. Today's Nice Price or Crack Pipe Saab 9-5 is a wagon, so, obviously I like it. Maybe its price will be something we can all like.
Considering its reputation for customer loyalty, I'm guessing that few of you are present Subaru owners. How else can you explain the 65-percent Crack Pipe loss suffered by yesterday's survivor 1985 Subaru Brat GL? What's that you say, it was the price that did it in?
Wow, I didn't think you could put a price on loyalty, but I guess I was wrong.
Hey, you know what's a brand that didn't find much loyalty? Yep, that would be Saab. Not only did its small cadre of fans fail to buy enough of the Swedish marque's products to keep it afloat, but when sales got to be excessively dire, the company's parent, General Motors, unceremoniously kicked them to the curb. Geez, it was like taking a good ol' dog out to the woods and then just leaving him there. You know, cold.
Before all that happened however, Saab built this handsome 2004 9-5 Arc Estate. Now, for a modest price you could have the opportunity to experience it in all its wagonly goodness. Let's see if you should.
G/O Media may get a commission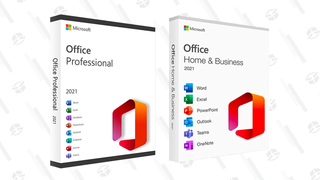 95% off
Cyber Monday - Lowest Price Ever - Microsoft Office Lifetime License
The Arc was the mid-level trim tier on the 9-5 platform and in this case came with a 220-bhp edition of the turbocharged 2.3-litre B-series four. Behind that sits an Asin-derived five-speed automatic, while behind that sits the ignition switch.
Despite lacking a stick shift, the seller says the car is fast, and it being a Saab it's likely engaging to drive. The seats in the Arc as super comfortable—I used to rest in Saabs when trekking through car shows—and here they seem to still be in pretty decent shape. The 9-5 was the first mass-produced car to offer ventilated seats, but the ad doesn't say whether or not this one has that ass-cosseting feature.
It would be nice if it did since one of the negatives noted in the ad is a failed A/C. The seller also claims that there is a vibration at idle—you know, for the ladies—and bodywork that seems to have gone a few rounds.
The exterior actually doesn't look all that bad in the pictures, although admittedly there are no shots of the "taped up tail light" noted in the description.
On the plus side, the tires are just a year old, the windows are said to all work, and it comes with a radio that's one of Amazon's top rated. Mileage is a substantial but not remarkable 158K.
The seller says this is a car for someone who wants to haul stuff around and isn't afraid of banging into the occasional trashcan every now and again. The wagon body remains handsome to this day and the Arc kit gives it a little extra go and show. Sure, it has some warts and it comes from a company that—quite honestly—nobody seems to want to have anything to do with any more, but isn't that all just part of its charm?
That charm comes at a modest price as well. The seller is asking $2,000 for this Arc, and while it may cost that again so that the A/C might once again give the cold shoulder, who doesn't enjoy a good sweat every now and then?
What's your take on this bruised Saab and that $2,000 price? Does that seem like a good deal for so rare a wagon? Or, does the car's description scare you off no matter what the price?
You decide!
Seattle Craigslist, or go here if the ad disappears.
H/T to fauxshizzle for the hookup!
Help me out with NPOCP. Click here to send a me a fixed-price tip, and remember to include your Kinja handle.