Today's Nice Price or Crack Pipe 500 SEC is probably the cheapest way to boast at parties that you own a gullwing Benz. Still, this Styling Garage SGS conversion coupe may not be priced quite low enough to get this party started.
Both Bentley and Rolls Royce are considered by many to be amongst the most hallowed of names in the motoring industry. As such, combining them into one single car should be even more awesome, right? Wonder Twin powers activate! Form of yesterday's oddball custom 1991 Bentley Turbo R. Sadly, not even a sassy duo of teen superheroes could save that Bentludicrous Brit from its fate, which turned out to be a 74% Crack Pipe loss.
Styling Garage was founded in 1979 by Ralph Engel and Christian Hahn in Pinneberg Germany. At the time SGS, as it was known, was sort of the Iron Chef of specialty auto builders, taking already noteworthy cars and making them totally audacious. One of the ways they did that was by converting damn-near everything leaving the factory to have doors fashioned after a seagull's upper limbs.
This 1983 500SEC is apparently just such a subject of the company's work, and is one of only about 75 cars so converted. These were often built for Saudi princes, owing to that group's proclivity for having metric tons of spending cash and a taste for the extreme when it came to their cars. The seller sort of claims that this one's a 1000SGS, but there are no rear end shots to confirm the car being actually badged as such.
G/O Media may get a commission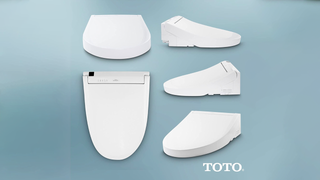 44% off
Toto Washlet Electronic Bidet Toilet Seat
The base 500 SEC wasn't all that bad a base on which to build this sort of extremism. When introduced in 1981, the W126 Coupe proved to be far larger and more imposing than its SLC predecessor, and one-upped the competing BMW 6 by offering an eight cylinder. The M117 V8, all five litres of it, was good for about 230-bhp in U.S. form, but also 300 ft-lbs of torque, which ain't too shabby. That's backed up by Mercedes' 4-speed automatic.
At around 3,700 pounds wet, the SEC wasn't as heavy as its size and status might have led you to believe. I don't know how much weight the switch to bird doors adds, but you can bet that this custom beast isn't any lighter than stock, that's for sure.
Adding to that weight is a set of sill extensions on threes sides of the car, as well a big-ass wing on the coupe's big-ass ass. That's all painted in refrigerator white, as are the bumpers and rocker moldings, which on the factory cars were typically grey. It appears perfectly clean and it's pretty remarkable how unassuming the gulling doors look when closed. Popping one open at the valet should cause some jaws to drop however.
On the inside it's all white leather and phat Recaro bucket seats, at least in the front. Still, these are big coupes and there should be plenty of room in the pair of chairs in back. The dash has been anointed with beige gauge faces and a TV screen where the radio goes.
The rest of the interior has been given the red carpet treatment so it may mean having to shoo c-list celebs off of it from time to time. The ad notes that there is an 'infrared' rearview camera, which is cool because you'd never have to worry about backing into one of those Predators and all the hassle that's involved in that.
Speaking of the ad, it is one of those cryptically composed affairs that seems to have either been written in haste by someone for whom English is not a primary tongue, or, if it were on paper, in the form of magazine cut-outs, like a ransom note.
It's also not this particular car's first time on the dance floor, having been offered up at least once before - in 2010 - using the same pics and description, and in the same area. You might want to take that into account when considering the car and its $18,500 asking price.
Now, audacious as it is, and considering the fact that the stereotypical driver of just the stock W126 coupe is a guy wearing mirrored aviators and a five-day growth of stubble above his gold chain strewn man chest, you kind of have to wonder what is the audience for this custom SEC.
Once you've figured that out, and felt better about yourself for NOT being that guy, why don't you vote on whether $18,500 is a good deal for that imagined buyer to drive away in this gullwing'd custom. What do you think, should its seller get that much? Or, is this a style that needs to go back into the garage?
You decide!
Palm Springs Craigslist, or go here if the ad disappears.
Help me out with NPOCP. Click here to send a me a fixed-price tip, and remember to include your commenter handle.