It once took three whole companies to bring the engine in today's Nice Price or Crack Pipe Corvette to life. Let's see if this red rocket's price tag will mean there's still some of that life left in it.
Imagine for a minute the following scenario: your dad gets calf implants and then just sits around all day begging off any strenuous activity because he just isn't up to it.
That's sort of the impression I got with yesterday's 1984 Subaru GL10. The rally lights and fubar roo bar implied rally car action, but its meager motor and lack of AWD-ness called false those eager promises.
Of course, a clean car with a $2,000 price will always find favor, no matter how many lies it tells. That's just the world we're living in. To prove the point, that Subie with delusions of grandeur came away with a grand 68-percent Nice Price win. Now tell your dad to get his cut calfs off the couch so he can come over and have a gander at today's 1990 Chevy Corvette ZR1. Maybe that'll give him some inspiration.
To date there have been four models of 'Vette that have carried the special ZR1 cordon of performance. The second, based on the C4 platform and internally dubbed the "King of the Hill," was intended by Chevy to be the fastest production car… (drops into very poor Jeremy Clarkson impersonation) in the world.
G/O Media may get a commission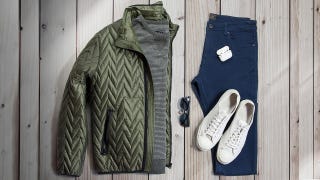 60% off
Jachs NY Fall Sale 60% Off
To create such a beast Chevy engaged their recently adopted sibling, Lotus Cars to design a V8 engine that could push the C4 past hitherto unknown boundaries. Okay, show of hands: who here even remembers that GM once owned Britain's Group Lotus? Honestly, that little specialty maker has had so many dance partners over the years, it's seemingly easier to keep track of who hasn't owned them.
Lotus came up with a 32-valve V8 that shared its bore centers with Chevy's pushrod L98, but pretty much nothing else. The all-alloy mill was fed through a series of dual-track intakes, half of which could be closed at low RPM for tractability. They could then be all opened at higher engine speeds to unleash the motor's full 375 horsepower.
Um, yeah, I know 375 doesn't seem like a lot today, but back then it was a butt-load, and it made the ZR1 the king of at least the Corvette hill. Chevy realized that the limited production numbers of the LT5 meant that it wasn't worth investing in the engine's specialized production demands, so they contracted out assembly to Mercury Marine out of Oklahoma. The engines were then shipped to the Corvette factory in Bowling Green, Kentucky.
There they were mated with a six-speed manual, a Lotus-tuned FX-3 "active ride" suspension, and upgraded braking, all wrapped in a body featuring a subtly wider rear end to keep the 11-inch rear wheels under cover. The only really distinctive aesthetics of the ZR1 were its squared-off tail lamps, and those big-ass wheels. In total, there were about 6,400 C4 ZR1s built before the C5 came along and took over the roost.
This 1990 Corvette ZR1 visually implies its performance bonafides with an arrest me red paint job. That looks to be in fine shape, with only some minor chipping in the nose to detract. The modest trim is all intact and the alloy wheels show no sign of curb rash.
The red continues inside, to the carpet and the sport bucket seats that the factory obviously contoured to replicate some bodybuilder's abs. It's a little lurid in there, and honestly GM interiors from the '90s were some of the worst around. Still, it all looks at least to have held up well here, and nothing appears to have been hacked up.
A word of warning however, getting in and out of those highly bolstered buckets and over the tall sill requires the dexterity of a Ringtail Lemur. Clunky shoe wearers will also find the C4's narrow footwell a challenge when three pedals are at hand… er, foot.
The car is said to come with 130,000 miles on the clock. It also has a new clutch, battery, and some fresh oil. The rearend has been changed out to 3:73 gears, but other than that it all seems to be stock.
That mileage is pretty high for so complicated a car, but the LT5 doesn't have a rep for undue fragility and pretty much everything on the car is still available. As added bonus, the seller notes that the car comes with a clean title and an accident-free history. He also claims it to be the "Cheapest clean titled, no accident zr1 in the USA." Yeah, we'll see about that.
His asking price is $11,500 and… well, shit. That does appear to be the cheapest C4 ZR1 on the market that's not in flames or potentially a total scam. The question however, is whether it's cheap enough. What do you think, is this ZR1 worth that $11,500 asking? Or, does this King of the Hill come with a price that's just too steep a climb?
You decide!
Los Angeles, CA Craigslist, or go here if the ad disappears.
H/T to Fauxshizzle for the hookup!
Help me out with NPOCP. Click here to send a me a fixed-price tip, and remember to include your Kinja handle.