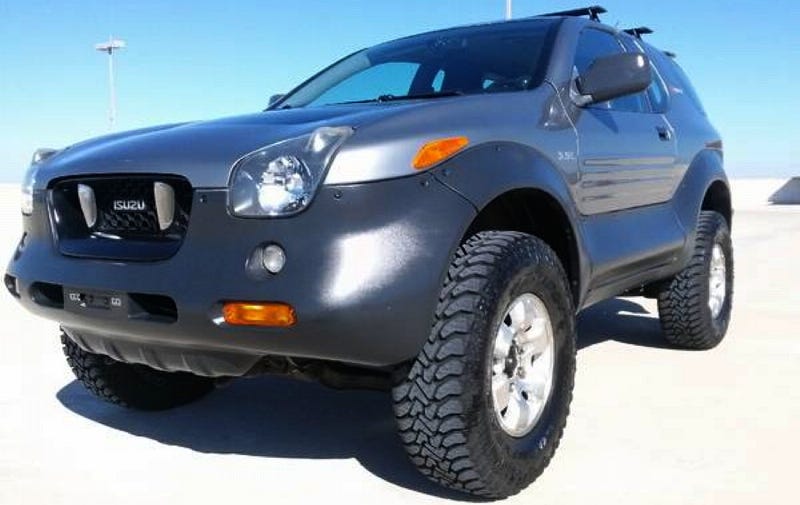 Nice Price Or Crack Pipe
Is this used car a good deal? You decide!
Today's Nice Price or Crack Pipe VehiCROSS represents not only the most audacious vehicle Isuzu ever marketed in the U.S., but also one of the most visually distinctive products ever to come out of any manufacturer. You'll need to see if its price appears as arresting.
Did you hear that? It sounded like angels on high announcing yesterday's 1970 Opel GT, which not only came away with a massive 92% Nice Price win, but based on the responses also required many of you to have some private time with its pictures. However, who am I to judge?
Of course today you're the ones right back there on the judge's seat, resplendent in your black robes with nothing on underneath, but again, you'll receive no judgement from me. Hopefully however you are ready to pass verdict on this 2001 Isuzu VeriCROSS, which just so happens to pack an Alpine supercharger kit featuring an Eaton M-62 as its main attraction.
There's a sad tale associated with this truck and I don't mean Isuzu's death spiral here in the U.S. market. No, it seems that the present seller and a buddy made an agreement that they would pick up this VX and after the seller had stripped off a number of accessories for his own truck, the buddy would buy the now clean machine for his own. Unfortunately the buddy experienced financial difficulties - who of us hasn't at one time or another? - and had to back out of his side of the bargain.
That has resulted in the truck now ending up on the list of Craig, offered with an extensive list of upgrades and accessories still remaining, and of course that blower. The stock mill in the VX was Isuzu's quad-cam 3.5-litre V6 which was shared with the Trooper. Backing that up on U.S. trucks was a 4-speed automatic and 4WD system co-developed with Borg Warner called Torque On Demand. And after all, who doesn't like torque on demand?
With the Eaton M-62, that gets boosted to somewhere in the neighborhood of 300 which, like like a good cop/bad cop partnership, ain't half bad. The blower is claimed to have been professionally installed back when the truck had 23K on the clock. It now presents 99K which is pretty reasonable for a 13 year old, 3-owner truck. That Alpine kit by the way is 50-state compliant.
Now, we had supercharged VXs here before, and in doing some rooting around I thought I had found this truck's earlier sale post as it has a number of striking similarities - bunch of add-ons, former Californian, 2001 truck with a supercharger, and in Kaiser Silver to boot. Looking at the pictures in that post's link however shows a black and grey interior, as well as some additional goo-gaws under the hood, while this one is red and black and looks a little different in the engine compartment. I don't know, like a ship's wheel in a pirate's pants, it's driving me nuts.
Alas that's a conundrum we don't have time to solve now because we're presently too busy deciding whether this Isuzu's $11,300 price tag is a deal or not. What do you think about that much cabbage for what appears to be a well-sorted VX, does that pass muster? Or, is this a supercharged VehiCROSS whose price also blows?
You decide!
Denver Craigslist, or go here if the ad disappears.
H/T to Bigblockbear for the hookup!
Help me out with NPOCP. Click here to send a me a fixed-price tip, and remember to include your commenter handle.