Historically, Creole meant native born rather than foreign born. Today's Nice Price or Crack Pipe Caddy-van is claimed to honor its builders heritage, but will its price have you going native?


Not even a trio of famously branded shift levers rising from the center console like an explosion of magic mushrooms could sway you all to the seller's favor for yesterday's 1984 Hurst Olds Cutlass.  Its 56% Crack Pipe loss came about in spite of the seller's substantial investment in the car's sub woofers, or perhaps because of them.

Cadillac's Escalade has always been a bit of an enigma. Its GMC truck base being sturdy enough, but all the fiddly bits required to Cadillac-it out seemingly going the other direction, making the trucks seem excessively baroque and kind of tacky.  

Today's Creolac suffers none of that however, having planted its flag of conquest on a Chevy Astro van rather than a Yukon. Starting with a 2000 model year AWD Astro standard wheelbase van, the Creolac's builder has taken everything you love about the 'Slade - the expressive grille, headlights and panache - and has rolled them into a package that's now car pool friendly.

Powered by a 4.3-litre Vortec V6 - good for 190-bhp, the Creolac is lacking in Caddy V-badge associated oomph, but the engine should prove at least capable. That's teamed up with a 4-speed automatic and NV136 transfer case that distributes power front to back as needed. Added to that is an airbag suspension, because low rider. The mechanicals have put in a claimed 62,000 miles so far, the look however, is much further down the rabbit hole.

The mid-cycle refresh for the Astro van traded what was originally a sloping Zippy the Pinhead look for a much more bluff and traditional van appearance. It also greatly improved its crash performance, but that's neither here nor there as who would want to damage all this custom work? That bigger clip affords ample room for the Escalade grille, headlamps and bumper without it looking like a fake nose, mustache and glasses.
G/O Media may get a commission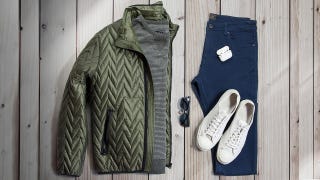 60% off
Jachs NY Fall Sale 60% Off
Deep grey metallic paint provides a somber classic mood appropriate for a luxury ride, even if the stuck on side vents comically appear to be on upside down. Out back a pair of skinny fin tail lights bracket the van's clever dutch doors and wrap up the Caddy wannabe theme. Holding the whole thing up are a set of 20-inch chrome wheels that will satisfy even the most passionate of spoke fetishes.
It's on the inside however where most of the money has been spent, with custom Creolac embroidery on the two-tone leather seats, more video screens than a TGI-Fridays, and real alligator floor mats. Freaking alligator floor mats!

The seller says that the creation of the Creolac was a labor of love, and built to honor his heritage. Sadly it won't be part of his legacy as he is selling the custom van due to lack of funds.
You will need $10,000 to make the Creolac - man was he lucky to get that license plate! - part of your legacy. Do you think it's worth spending that much to do so? What's your take on ten grand for the Creolac, is that a deal? Or, is that price for this custom van Astro-nomical?

You decide!
mautofied or go here if the ad disappears.
H/T to Nicholas Heiny for the hookup!

Help me out with NPOCP. Click here to send a me a fixed-price tip, and remember to include your commenter handle.