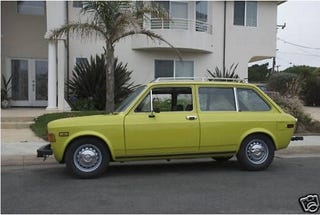 Nice Price Or Crack Pipe
Is this used car a good deal? You decide!
Santa Cruz California is known for its liberal take on things such as public nudity and gateway drug use. As Nice Price or Crack Pipe has discovered, their Fiat-selling policy is also pretty progressive.
Ferrari. That's pretty much all that needs to be said to make most car enthusiasts jerky get perky. However yesterday, when the dust settled and the $25,900 price was considered, the lean and clean 308 GT4, had only eked out a slim 53% victory. Philistines.
Today we have another Italian, one that's nearly as rare these days as that 308, only its scarcity is due to attrition rather than low production. The Fiat 128 debuted in a form that was mechanically nearly five years ahead of other small cars of the era. Unlike earlier small Fiats, which had their motors hanging off their asses like giant dingleberries, the 128 had its engine sitting transversely up front, and nestled tight next to the transmission for an exceptionally compact package. Having the transmission off-center was made possible by the use of unequal-length half-shafts, a first in this application. The free-revving 1100-cc - and later 1300 - four cylinder was topped with an alloy SOHC head, with the cam driven by a cogged belt. Both the drivetrain and engine are mundane for small cars of the recent past, but for 1969, the 128 was like the iPhone of small cars.
That tour de force of design - which provided engaging handling and exceptional space for so small a car - was let down by the less than successful execution, and in sales the higher-quality Japanese ate the Italians pasta-heavy lunch. Engine failures, rust, electrical gremlins that would make Lucas proud- all conspired to drive Fiat from our shores. That's not to say the 128 wasn't a success elsewhere- thousands were sold across Europe, and the car formed the basis for a number of eastern block attempts at personal mobility including the vaunted Yugo before the Balkan War was started to rid the world of that automotive pestilence.
Today we have a 1976 128 Familiare that has been lightly restored by Santa Cruz's own FiatPlus. Wearing a new coat in a traditional shade of vomit, the three-door wagon is claimed to have a rebuilt engine and enough X1/9 parts to make you cry Mama Mia! At only 34 years old and still living at home, the car isn't exempt from California's notorious smog test yet, and this car is claimed to have passed it with flying colors. The seller maintains that the remainder of the car is almost as clean as that smog test- almost. There's still some electrical niggles including a recalcitrant dome light switch, some worn carpet, and rear defroster that's decorative only.
The 1,290-cc inline four put out 55-bhp stock, making the car good for a zero to sixty run of 14 seconds, allowing for plenty of time to take in the scenery through the expansive glass area. Rowing through the transmission's four speeds will reveal a long throw and rubbery action, as well as a yearning for a fifth gear when doing 6000-rpm at 55 on the highway.
Apparently a bit of a wordsmith, the seller has worked hard on his description, providing a little bit of the car's history and what charms ownership of the Fiat would hold. He even makes taking his used pizza box along with the car sound like a benefit! However, the ad is filled with qualifiers- words like "almost," "only" and "except" which calls into question the thoroughness of the 128's refurbishment prior to being offered for sale. When he notes that it comes with two new tires, you start to wonder if this car has seen a proper investment in its presentation to potential buyers. All that uncertainty evaporates when you see the $10,000 asking price and realize that no seller would offer a Fiat 128 for such a price if its preparation had been half-assed. Allayed of the fear of purchasing a turd, it's now time to put price and pedigree together and put them to a vote. Do you think that paying ten grand for a puke-hued Fiat 128 is a liberal financial policy? Or, at that price, is the only thing that's liberal is the amount of lube you're gonna need?
You decide!
eBay or go here if the ad disappears. Ten Thousand thanks to Scroggzilla for the tip!
Help me out with NPOCP. Click here to send a me a tip, and remember to include your commenter handle.