As illustrated in The Prince and the Pauper there's a yawning chasm of difference between royalty and commoner. Today's Nice Price or Crack Pipe 350-powered Bertone Volvo 262C attempts to bridge that gap, but does its price make it a royal pain?
The French, when faced with new dietary guidelines from their royalty, knew just what to do, or mon dieu. The resulting revolution changed the nation from a strict monarchy to a republic, and made many of the former ruling class a lot shorter. Yesterday's 1969 Citroën Mehari may not have been revolutionary, but driving it would assure you weren't mistaken for aristocracy. Still, fully 84% of you felt its price was too rich for your blood.
The novel, The Girl with the Dragon Tattoo is presently one of Sweden's biggest exports. But back before Lisbeth Salander was sodomizing social workers (ooh, spoiler alert!), Sweden was better known for brick-like cars than shit-a-brick mysteries involving nazis and nose rings. Today's Volvo 262 was one such brick that Bertone attempted to class up by chopping its top and fitting it, externally with a vinyl roof, and internally with wide expanses of leather. The result was a car fit for King Gustav, but with its PRV V6, not one that offered much in the way of speed beyond the requirements of stately royal processions.
G/O Media may get a commission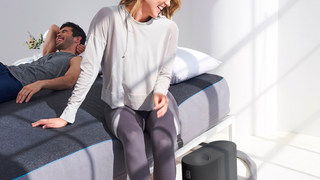 Eight Sleep Pod Cover
This particular Bertone Coupe keeps its C-pillar crown but goes all common under the hood, where that incestuous six has been replaced with an engine for the common man. Chevy's 350 is the great equalizer, bringing chap power to the masses and making every driver's seat a throne from which one might rule. Backing that up, according to the seller, is a 700R4 automatic.
Based on the 200 platform, the 262C or, later, Bertone Coupe, was Volvo's second attempt at a specialty personal coupe after the P1800. It should be noted that while the Italians did the top chopping and interior leathering on the car, its styling was solely he work of Volvo. This one doesn't look fit for a king unless that's the Mattress King, its paint looking duller than a Mennonite orgy and the steel wheels covered in what's either flat black rattle can or decades worth of brake dust. Rust does make an appearance, mostly at the windscreen base, so sayeth the ad.
The interior gets a pass from the pictures but a peek in the window shows what looks like black leather in there, and let's just assume it looks about the same as the outside. Despite its general decrepitude, the seller claims that most everything works, and that the car is good if your name is rubber and you want to get laid. He also says that like most monarchs, it pulls to the right, but that could be fixed with an alignment, not a revolution.
So, this is an intriguing mix of the privileged life powered by the efforts of the commoner, a more apt metaphor for our times I think you will not find. And whether you are royalty, or are a member of the 99% who have avowed fealty to the 1%, this could be the car for you. Of course, unless you are royalty then nothing comes for free and this Chevy-powered Coupe comes with an $1,800 price tag.
The question for you is, does that make this a car that rules? Or, is that price a king's ransom?
You decide!
New Hampshire Craigslist or go here if the ad disappears.
Help me out with NPOCP. Click here to send a me a fixed-price tip, and remember to include your commenter handle.