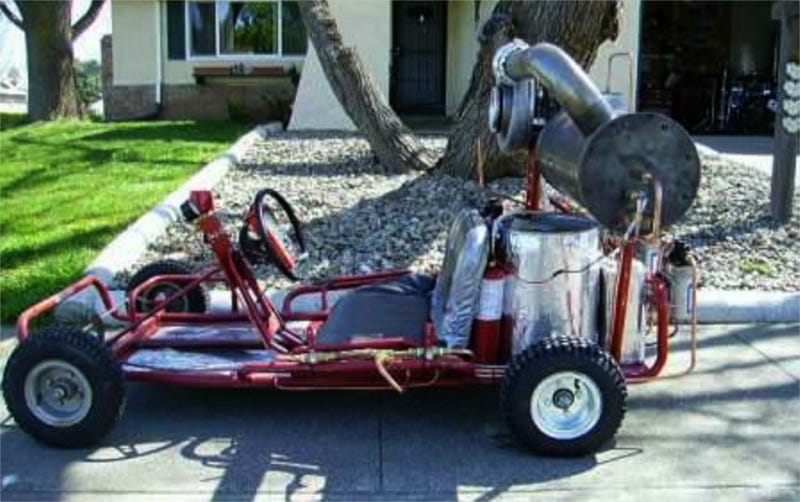 Nice Price Or Crack Pipe
Is this used car a good deal? You decide!
Today's Nice Price or Crack Pipe jet-powered go kart - yes, that's right, jet-powered go kart - even has a second seat for someone to be goose to your maverick. Is its price however, cleared for takeoff?
Have you ever seen that old Simpsons episode where their dog needs expensive surgery? They visit a veterinarian just as he's in the middle of unsuccessfully attempting to defibrillate a hamster. Upon giving up he declares, this is the part of the job I hate the most - and then lobs the deceased rodent into a nearby trash can.
Based on its 77% Crack Pipe loss you could substitute yesterday's 1973 VW K70 for the hamster, and every rational thinking individual on the planet for the vet. It's always sad to see the rare ones go, but the consensus was that oddball VW was already too far gone to be resurrected.
As we all know, if you want to be resurrected, y'all going to have to meet your maker first, and what better way to make that appointment than in a jet-powered go kart? Now, those of you who have plied the back pages of such venerated periodicals as Popular Science and Popular Mechanics will no doubt be familiar with ads offering plans for such beasts. Those however are for pulse jets, a dirt simple propulsion device favored by the Nazis in WWII for their V1 Buzz Bombs which were so named for the popping sound created by the engine's combustion drum beat.
This kart is instead moved by a jet turbine, which has been fashioned out of a turbocharger said to have been pulled from a 14-litre truck. I don't know about that, but it's still a honkin' big snail. This is a home brew jet, and unsurprisingly you will find that this is not all that uncommon a hobby. In fact, there's even a Facebook group dedicated to it. Of course there's probably a Facebook group dedicated to eating boogers so I wouldn't ascribe much validation to its proponents based on that alone.
If you want to know more about how these things work, there's a good build thread (not for this one) over on Instructables. If you just want to hear how this one sounds, you can stick much closer to home and watch the video below.
Yeah, I'm getting the impression that this sale is being forced by his neighbors, and honestly this oddball toy will have VERY limited uses as it's neither road worthy nor appropriate for suburban sidewalks. If however you have a super-long driveway on your remote country hideaway, then what cooler way to head down to the mailbox would there be?
The seller/builder says that he has six months and over five grand invested into the kart, and since shooting the video he says he has added a 5-hp engine to provide oil to the turbo's bearing. He'll also throw in another pair of pumps to sweeten the deal. Maybe he'll even go so far as to give you that sweet digital multimeter that's presently wired to the wheel!
At the moment he's willing to let it all go for $1,800, a mere fraction of what he's spent, and probably the cheapest way for you to tout at parties that you 'own a private jet.' What would it be like to drive this thrust-powered go kart? Probably slow and terrifying, with a potential chance of horrific burns and shrapnel wounds from a catastrophic engine failure tossed in for good measure.
Still, I like those odds, as well as the possibility of sucking a bird into the turbine. If you also feel so inclined, what's your vote on this krazy kart's price? Is $1,300 a fair deal to become a jet pilot? Or, is that price a flameout?
You decide!
Sacramento Craigslist, or go here if the ad disappears.
H/T to my buddy, Fuzzyplushroom over on the book of faces for the hookup!
Help me out with NPOCP. Click here to send a me a fixed-price tip, and remember to include your commenter handle.