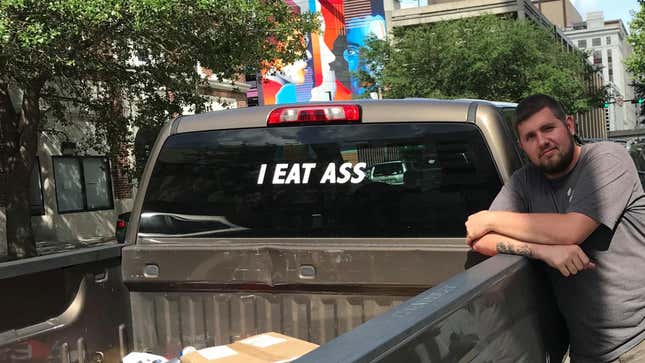 In a situation that could really only happen in Florida, a man was arrested for the sticker proclaiming that he eats ass that adorned the back window of his truck. While he was quickly released, he's now threatening to sue for the violation of his first amendment rights. Bless your mess, Florida.

The Ford Taurus Is Reborn — But Only For the Middle East
We here at Jalopnik have some conflicting feelings about the entire concept of bumper stickers. Personally, I firmly believe there's nothing wrong with a tasteful sticker every now and again. Dillon Shane Webb's "I EAT ASS" sticker is, in my eyes, the epitome of a classy adornment for any Chevy pickup.

Webb was stopped by a Columbia County Sheriff's Office deputy just west of Jacksonville, Florida. The officer's dashcam footage reveals that deputy pulled Webb over for his "derogatory" sticker. Their conversation followed:
WEBB: How is that derogatory?
DEPUTY: How is it not derogatory? Some 10-year-old little kid sitting in the passenger seat of his momma's vehicle looks over and sees 'I EAT ASS' and asks his mom what it means; how is she going to explain that?

WEBB: That's the parent's job, not my job.
The deputy goes on to argue that he wouldn't want to have to explain the sticker to his kids, that Webb should remove a letter to transform ASS to AS, and that Webb was not only violating Florida's obscene materials law but also was resisting an officer. He then issued Webb a summons.
However, the law sided with Webb in this case, as a court notice shows. Turns out, there's no law that says you can't let the world know about what you eat, even if you're eating ass.
But Webb isn't quite ready to let this go. Webb's lawyer Andrew Bonderud told Buzzfeed that they were considering raising some complaints against the sheriff's office . Webb was arrested and unable to work over what they argue is simply a free speech issue.
G/O Media may get a commission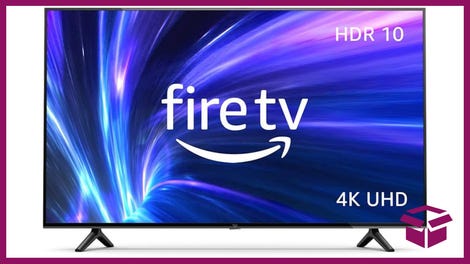 42% Off
Amazon Fire TV 50" 4K Smart TV
In a beautiful moment of irony, the news story almost immediately went viral around the world, which means there are probably plenty of parents having to talk to their children about the ass sticker debacle—including, likely, the deputy himself.