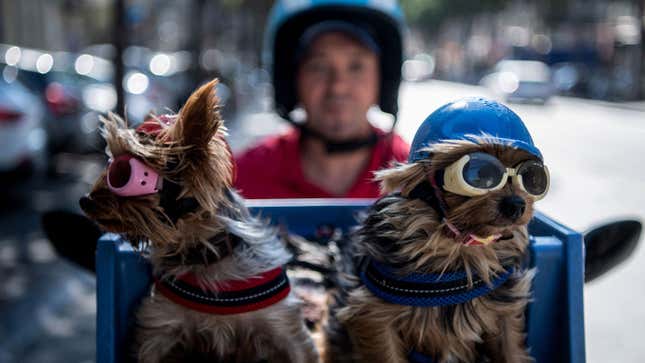 What kind of activities do you like doing with your dogs? Are you the kind of person who cycles with their dog running alongside them, or are you someone that prefers to snuggle up on the couch with them? Well, if you're the kind of thrill seeker that used to take their dogs out on the open road for a drive, I've got some bad news for you.

Cesar Millan's Tips for Holiday Driving With Your Dog
A new bill in Florida is looking to cut down the kind of things you can do with your dog in a car or motorcycle. The proposal is part of an attempt to improve animal welfare across the state, and specifically looks to ban people from driving with their dogs on their laps, or from riding a motorcycle with a dog sitting in front of you.
The bill, catchily titled SB 932: Animal Welfare, looks at clamping down on the way we travel with our pets. It includes measures that would outlaw people from driving with a dog on their lap in a way that "interferes with the person's control."
It would also strive to ban people from riding a motorcycle with a "dog positioned in front of him or her," and prevents people from transporting a dog "at any time on the running board, fender, hood, or roof of a motor vehicle." Dogs would also be banned from riding in the trunk of your car, or in any trailer "that is being towed by a motor vehicle."
G/O Media may get a commission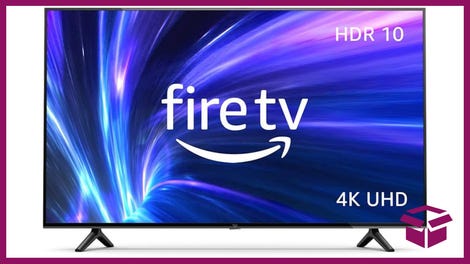 42% Off
Amazon Fire TV 50" 4K Smart TV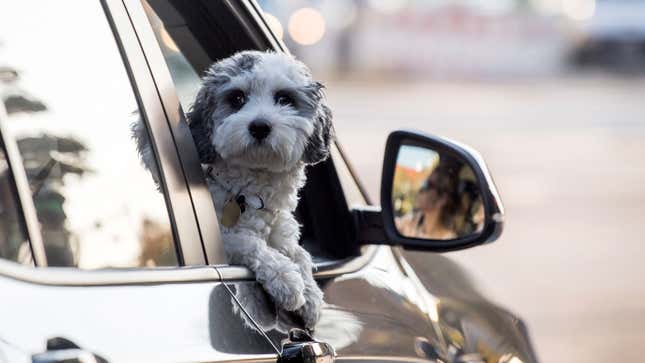 All of those measures do sound like good steps that could help keep your pooch safe on the road. But, there is one aspect of the proposed law that angered dog owners across the state.
In its current form, the bill also includes language that would prevent people from letting their furry friends hang their heads out the window of a moving car. But, following pushback of the proposed ruling, Florida state senator Lauren Book said this aspect could be amended out of the bill.
In a statement shared with Jalopnik, the senator said:
"Our family has three dogs – two of which are almost 175 pounds each and love sticking their heads out the window – so I welcome and appreciate all public comment on this issue, which is only one piece of a complete proposed overhaul of the state's animal welfare system as brought to me by veterinarians and advocates.

"We can easily amend this piece out of the bill while protecting the intent of the animal welfare community and vets who proposed the policy because of unintended injuries they've treated — and we will. In the meantime, let's all invest in a good pair of 'doggles' to keep our furry friends safe."
But if that's the list of things Florida wants to stop dog owners from doing, what would the new law allow people to do with their furry friends in the car? Well, there are a whole host of safety measures that go beyond applying a pair of doggles whenever your floofer pops its head out the window.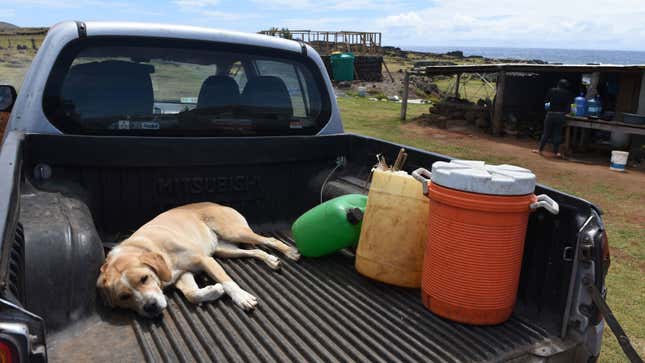 Under the bill, dog owners would be required to either secure their dog in an appropriately-sized crate, restrain them "safely with a harness or pet seat belt," or keep them under the control of a "person other than the operator of the motor vehicle."
Finally, dogs can no longer be left free to roam the bed of your pickup truck. Instead, they must be restrained in a suitable crate.
Car and Driver reports that the penalty for not following the newly-proposed laws would "only be a non-criminal moving violation."
So far, the bill has just been filed with the Florida senate, so there is still a ways to go before it can become law. The bill must now be assigned to a committee, which will decide if it should be amended, passed or failed. If the bill is passed, it will move to the full house, which will vote on its approval.