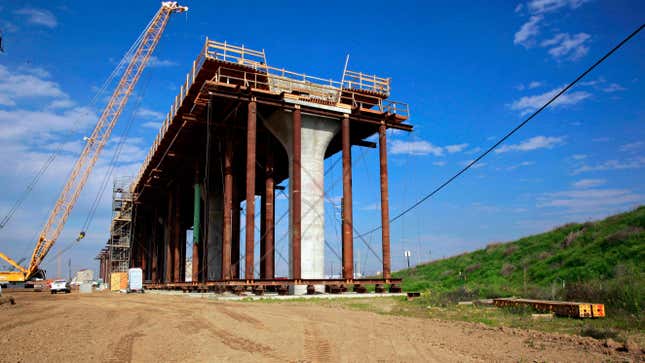 California has gotten some seriously needed water the last month or two. State reservoirs once dry and barren are now plentiful, sitting at 107 percent; snow packs are at 235 percent. Suffice to say that most of the state has been pulled out of the drought. But all that water, that suddenly has no place else to go, has caused flooding and displaced residents, particularly in the state's Central Valley. It's also become a problem in the construction of California's high speed rail system, according to The Fresno Bee.
This NYC Garage Takes Vanlife To The Next Level | Jalopnik Visits
Construction of the system hasn't been without its troubles. When we reported on the rail line in March, the section currently under construction was said to be $10 billion over budget to reach completio. The cost for the entire rail also jumped, from an originally proposed $33 billion (in 2008) to $128 billion. Add in flood waters forming lakes around construction as just another expensive hiccup and delay for an already plagued project.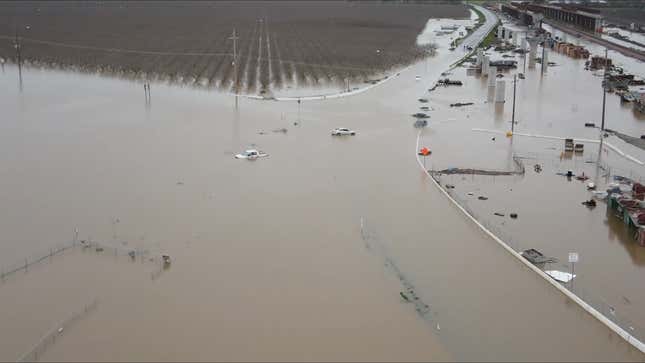 Flood waters have inundated sections of the rail construction in King and Tulare counties — part of the larger 65 mile section that stretches from Fresno to the county lines. Aerial footage shared to the Tulare County Sheriff's social media accounts shows the extent — with so much water that construction vehicles haven gotten stuck at sites.
Garth Fernandez, head of the Central Valley High Speed Rail Agency spoke about some of the struggles at the sites in an interview with The Bee.
"There's a lot of work we can't get to. So at Tule River and Deer Creek, right now we are not working. … We don't even have access to that (Deer Creek) site right now because it's all under water," he said.

Even though flood waters are making it difficult to work on the project they've been contracted to complete, the rail agency and construction companies have pivoted to helping the communities around them — like using equipment to divert water or stop flooding altogether.
Yet another problem looms in the rail line's future: irrigation runoff canals. Spring is here with warming temperatures, which means the snowpack currently sitting at record levels in the nearby Sierra Nevada mountains will start to melt. That water will run into nearby streams, lakes and rivers as well as these irrigation canals — which these rail sections happen to run over It's going to be a problem when that starts as portions of the rail sections run over these canals. It's a problem Fernandez says they'll have to tackle as it becomes a problem, if it becomes a problem.