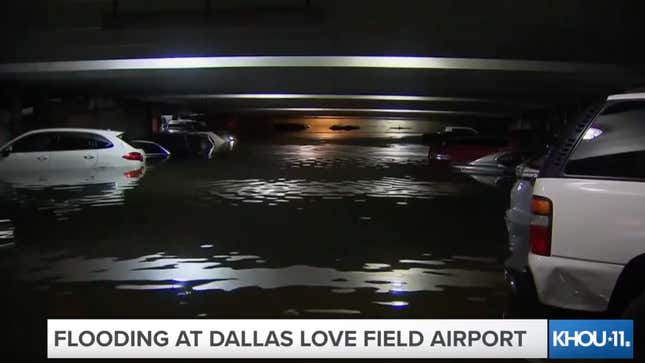 The only thing that could make air travel worse would be coming home from your vacation only to find that the car you left in the airport parking lot has been completely submerged like a four-wheeled Atlantis. If you're flying home to Dallas Love Field today, that could very well be the case for you.
Dallas, Texas is currently being pelted with multiple days of rain—never a good thing in a state with a thin layer of topsoil and infrastructure that's just not designed to handle that much water all at once. Usually Houston is the site of Texas' devastating floods, but this time around, it's Dallas, a city that's currently under a flood watch with a predicted flood plane of eight feet.

And it looks like the underground parking garages at Dallas Love Field airport have been slurping up all of that water like they are trying to cure raging hangovers.

Specifically, it's Parking Garage A that's suffered the worst of the water damage, CBS 11 Dallas reports—which is especially unfortunate because it's the one closest to the terminal and the one most travelers will gravitate toward. Its lower levels are almost entirely flooded, with officials estimating that there are at least 30 cars underwater.
G/O Media may get a commission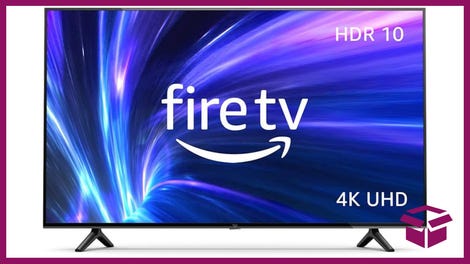 42% Off
Amazon Fire TV 50" 4K Smart TV
Spokesman for the airport Chris Perry told CBS 11 that the flooding is due to an unspecified drainage issue offsite and that a giant pump will be brought in to try to remove some of the water. That said, there's still another full day of rain in the forecast, and it'll be difficult to displace water fast enough to counteract the flooding.
The level of water in the garage is still rising and doesn't look to be stopping any time soon. There are inches of standing water already pooling on the upper levels of the parking garage—not a very promising sign for the drainage situation.
As a former Texas resident, yes, flooding happens literally every time it rains for longer than an hour. My own parking garage of my apartment complex would flood in a similar way to Love Field (just not quite as terrible), and water tends to pool up wherever it possibly can. It well and truly sucks.
There's currently no word about what will be done about the property damage. The main focus now is clearing out the water and hoping for the best.