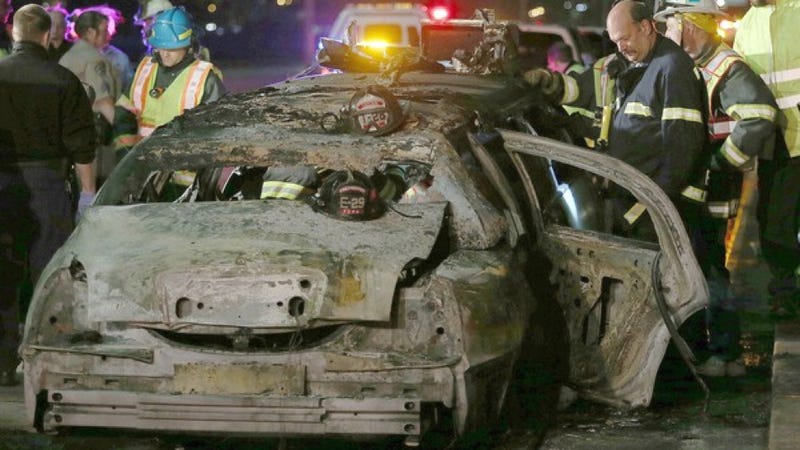 In a bizarre and sad bit of news out of California early this morning, five women were killed when a limousine caught fire while travelling across the San Mateo bridge.
The women were all in their 30s, though their names have not been released pending notification of the families, police told local news station KGO-TV. The cause of the fire has also not been determined, and local news reports did not identify the car, although it looks like it was a Lincoln Town Car from these photos.
Four other passengers escaped with moderate to severe injuries, ranging from smoke inhalation to burns:
The blaze occurred around 10 p.m. on westbound lanes of the bridge, which connects San Mateo and Alemada counties, about 20 miles southeast of San Francisco.

The patrol said that smoke started coming out of the rear of the limo, and the driver pulled over as the vehicle quickly became engulfed in flames. Officers were trying to determine the cause of the blaze, which wasn't the result of an accident.

"We have no idea right now where they were going or where they were coming from," CHP officer Amelia Jack told KGO.
Viewers of the local NBC affiliate also sent in this photo:
That picture must've been taken shortly after the blaze began, as it doesn't appear as if the victims had much time from the beginning of the conflagration.
We'll update this if we get more on it.