To hear Fisker tell it at the Frankfurt Motor Show, the world is clamoring for not just its Karma range-extended electric vehicle but this new variant: a four-door wagon dubbed Surf that it plans to sell in 2013. But why hasn't it actually delivered a car yet?
The official line from the company backed by a $528 million federal loan is that its first 100 customers — including celebrities like Leo DiCaprio and Colin Powell — are already getting their Karmas. The other 3,000 pre-orders will start to be filled just as soon as Fisker gets its mileage certified by the U.S. Environmental Protection Agency, which it expects to do no sooner than the end of this month.
Which is a little strange. EPA certification is usually a routine thing; I haven't heard of a vehicle being delayed because of it. While Fisker had touted that the Karma's 403-hp electric motors hooked to a GM-sourced 2-liter turbo engine could deliver fuel economy of up to 100 mpg, its claims have never been verified outside the company.
Fisker's own web site says the $96,000 Karma should get about 67 mpg in typical driving — roughly what the $40,000 Chevy Volt does — but a Fisker spokesman told us the company isn't saying what it expects the final EPA number will be.
And without that rating, it's not legal for Fisker to sell cars in the United States, suggesting that the early "deliveries" are of vehicles that still technically belong to Fisker. That might explain why DiCaprio's reps denied he'd bought one.
G/O Media may get a commission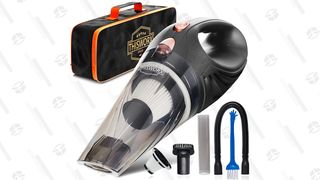 Save 50%
ThisWorx Car Vacuum Cleaner
Anyway, here's the wagon version, which will cost slightly more.