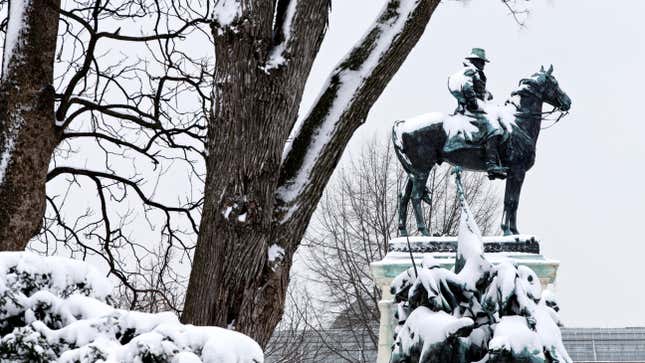 There is currently much-to-do about Former president Donald Trump's Tuesday arraignment, but he is not the first president to face the long arm of Johnny Law — just the first to do so in the last 150 years.
Ulysses S. Grant, our 18th president, was a bit of a speed demon. In 1872, he was arrested for racing a two-horse carriage down a street in Washington D.C. He was then arrested again when stopped by the same officer for the second time in two days. The first time, the officer issued Grant a warning. When he stopped him the next day, a warning was off the table. It was time to bring the president in.

What's really fascinating is that the arresting officer was one of only two Black D.C. police officers at the time. William West, a Civil War veteran who fought for the Union, was the one who issued the first warning. Grant promised not to break the law again, but when West spotted him racing the carriage the very next day, he knew he had to do his duty.
NPR's Steve Inskeep spoke to John Marszalek, an American historian and former Executive Director of the Ulysses S. Grant Association, about the arrest:
MARSZALEK: West stops him again and says, I'm going to have to arrest you. So he takes him to the station. West is a little embarrassed because, after all, this is the president of the United States. But he did his duty.

INSKEEP: And President Grant apologized to the officer.

MARSZALEK: Grant said, I know I was speeding. You should arrest me. Don't feel badly about it. And this is the period when Grant is president, which is 1869 to 1877. That's the heart of the Reconstruction period. And this is the time when Grant says he becomes president only to make sure that what the Civil War was fought over really worked. And so the irony of William West, an African American, stopping him I think is wonderful.

INSKEEP: The rule of law. President Grant did not show up for his trial, though. He forfeited his $20 bond. Officer West kept the arrest quiet for decades but finally told the story to a Washington newspaper in 1908.

But it gets even better. It sounds like Grant was possibly street racing with a group of friends and felt very bad indeed for breaking his promise to Officer West not to speed. From the New York Times:
President Grant and several of his friends, with whom he had apparently been racing, were taken to a police station. They all had to put up $20 in bail — what was described in the news account as "collateral" — a sum that would be equivalent today to about $500.

The president, who had "the look of a schoolboy who had been caught in a guilty act by his teacher," was good-natured about the arrest, according to the news account. He even drove Officer West in his carriage to the police station, where his arrest was processed.

Speeding is never a good idea. Even today, in actual cars with 150 years of safety enhancements, excessive speed is the number one killer of Americans in crashes. Both Grant and West behaved incredibly classy in this scenario with Grant being reasonably chastised and West keeping the entire situation under his hat until years later. And it seems Grant learned his lesson, as there are no further reports of arrests. Grant did, however, skip out on court, forfeiting his $20 bail — about $500 in today's cash.