While most of the other journalists at GM's Heavy Duty truck drive this week were busy sucking down caesar salad and fiddling with cruise controls, I was crushing rocks and roosting photographers in a 2015 Chevrolet Silverado 2500 Heavy Duty Z71.
Drag racing pickups up and down a mountain with 10,000 pound trailers in tow was fun, too, and I'll tell you all about that later. But after I'd seen what a few heavy duty GMs could do with a burden twice their own weight (there were other, heavier trailers) I was keen to cut one loose and see what kind of mischief it could get into on the hoon-happy fireroads of Arizona.
I mean, if you write "OFF-ROAD" on the side of a truck you gotta find out if they're serious, right?
Everyone at the event had congregated at a little restaurant in Payson, AZ for lunch. I was reading about the monotube Rancho shocks, underbody armor, special front bumper and special gauge faces (oOo!) the Z71 got, and really wanted to know if that mean looking "OFF-ROAD" sticker on the back of the bed actually meant anything.
I'd been asking GM reps all day about off-roading, without any positive response. Finally, GMC Communications Manager Brian Goebel overheard me lamenting our confinement to bitumen and walked over with a proposition; "Pavement ends just about three miles that way, I'll show you if you want."
G/O Media may get a commission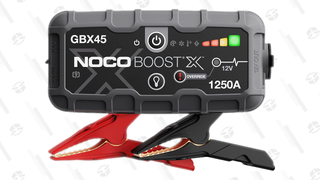 13% Off
Noco Boost X GBX75 Jump Starter
I wanted.
Jeep Off Road Author Tom Morr was in, too, and by the time I found a Z71 in a cool color (Blue Topaz Metallic) we had also collected two of GM's official photographers. The three big blokes across the rear bench got mighty familiar once we started getting jostled by the dirt. As the skinniest guy in the group I almost felt bad for capitalizing on the driver's seat. Almost.
We passed a couple shallow creeks I hoped to revisit later, but the road turned back to pavement after a little over two miles.
Not to be deterred, I pressed on. In a place like Payson, you're never too far from an old service road or ATV track.
Sure enough, it didn't take more than a few minutes down West Doll Baby Road — a name surely fit for the death of a prickly antagonist in a Cormac McCarthy novel — for my perseverance to pay off. There, on the nearest hill, was the unmistakable brown vein of a truck trail through the olive and khaki colored brush.
I bubbled over with giddiness when we confirmed the entrance lacked a "No Trespassing" sign and carefully guided the massive pickup onto the trail.
The entrance was a fairly steep and slippery down-and-up. The Goodyear Wrangler SRA tires weren't quite up to the task in 2WD, but 4 Hi made quick and easy work of the job.
Once clear of the ascent we found ourselves in a small dust bowl. My passengers piled out and took an arsenal of cameras, from a massive pro job to iPhones, to the sides of the clearing. They started snapping away and dodging the dirt I was throwing in 2WD with traction control off, at which point I was having one fuckin' fine kinda day.
The truck was pretty easy to break loose with a just a boot in the throttle, and it was effectively a rubber-grinder when I added a brake stand to the equation. With nothing in the bed, the Goodyears pretty much had to wait until they found a solid rock to hook up. When they did, the truck surged forward like a freshly branded bull and required a quick return to the brake pedal to avoid wreaking destruction on the brush surrounding the dust pit.
An old Lebowski-looking dude in a cowboy hat rumbled over to us from the top of the trail as the dust settled. Once I decided it wasn't likely he planned to shoot us, I told him we were about to head up the path he had emerged from. "Beauty view," he replied, adding "wouldn't take my truck up there."
Welp, this truck belongs to The General, and he won't mind I thought as I rallied the troops back into the cab for the ascent, assuring Goebel and the crew I'd "done this before."
The trail wasn't a full-on rock garden, but sharp-looking stones the size of footballs littered the deeply-rutted path to the top of the hill. We made our way up what was probably a 15% grade in 4 Hi without so much as a slip until we got near the top, where the track was rutted enough to require significant articulation.
At the first significant crest there were two paths, as there often are at tough points on a trail, and I pondered the view of the mountains as we posed for a few more pictures.
"Wanna use the bypass?" asked Gobels… who was probably wondering if his department would be billed for damage.
That was the first time I'd ever used the phrase "truck nah," as I asked the shooters to jump out again and capture some of the shock-stretching they were about to see from behind.
We had the left-rear off the ground at one point, but for the most part the Rancho shocks had enough travel to keep all four tires ground bound.
The Silverado climbed into the first rut easily enough, but getting out proved challenging in high gear. I dropped to low range and surged over the dirt rump as I felt the G80 differential engage.
Photographers clapped, and got some more shots as we navigated around some very big rocks. We pressed on over flatter ground and I got to appreciate how much more comfortable the Z71 Rancho monotube suspension was over a rough surface at speed compared to the setup on the light duty Silverado on 20's I'd been driving earlier in the week.
I would have loved to have followed the trail further, but the end of the day's program was approaching and my passengers had to get to other appointments. With hardly enough room to open the doors, I used the rear-view camera to guide about 500 yards of our decent until we came across a flat patch at the top of the steep section.
Once pointed the right way, walking down the steps in low range was easy money. The cab stayed reasonably level through the deep articulations and over pointy rocks.
The trail we took wasn't seriously technical, but it was definitely a couple notches above what I reckon anybody's going to do with a heavy duty pickup. At least until the old, cheap, and hoon-friendly start buying them secondhand.
In spite of its substantial girth, the Z71 performed confidently and comfortably. It didn't take long to get my head around the truck's dimensions (no park sensors on this one) and once I did I felt like I could have pretty much put it anywhere. The wheels are easy to keep track of, and even with the flappy chrome running boards we had plenty of clearance in the body and suspension through bigger dips than these trucks will ever see in the hands of their first owners.
On the way back, I dumped the photographers one last time at the first creek to give them a little tsunami show and wash the cow shit off the tires. Not much of a water crossing, but what a photo op!
Verdict is the 2015 Chevrolet Silverado 2500 HD Z71, and presumably its GMC Sierra counterpart, can do any off-pavement activity that will be reasonably required of it in the line of duty and keep you plenty comfortable while doing it. But if you're looking to get into real rough stuff on a regular basis, well, you're gonna want a whole lot less truck.
The Z71 package adds about $1,500. The options list is long, there are heaps of little storage boxes and such you can add to any Heavy Duty GM. The Silverado I drove here MSRP'ed out at about $48,000 with plenty of goodies.
I was a little worried GM might put me on their shit list for making a lot of extra work for their detailers, but they actually ended up using some of these images in their press kit. So if you see any similar shots of a blue Z71 with '028201' on a Michigan tag, that's me at the helm.
Images: FPI Studios