NASCAR may be a sanitized version of its rougher past, but old America is still alive at the Chili Bowl, the country's great annual dirt track race. At least, the drivers still fight each other.
For those of you who didn't read Rennsport's excellent explainer, the Chili Bowl is the great dirt track race of the year, with the best oval drivers in the country competing indoors in open-wheelers with more power-to-weight than F1 cars.
In one qualifying race (the B-Main 1, for those curious), Brad Kuhn slid sideways into elder racer Shane Cottle, punting Cottle out of the race. As Cottle got out of his Midget racer (looking like he was at least three times as big as the car itself), it was clear he was not happy with how things had turned out.
Cottle got stormed off to the pit area where, the race's announcers joked, TV cameras could not see.
G/O Media may get a commission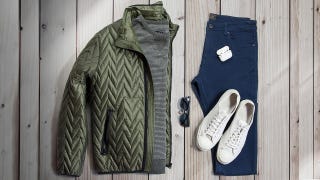 60% off
Jachs NY Fall Sale 60% Off
But thankfully everyone has a cameraphone these days, even the crowd at a Tulsa Oklahoma dirt track race, so the fight was captured for posterity. In the above vid you can hear the crowd laughing as the two drivers go for each other like it was the 1970s. At the end you can see other drivers (notably young Kyle Larson and Rico Abreu) competing in the Chili Bowl watching and laughing, too.
Here's a closer, non-vertical, but less jovial view of the chaos. Cottle is pissed.
If you're looking for classic American racing, dirt track is the place to go.