The Good morning! Welcome to The Morning Shift, your roundup of the auto news you crave, all in one place every weekday morning. Here are the important stories of success and failure in this multi-trillion dollar industry.
1st Gear: FCA boss Sergio Marchionne on if he would spin off Jeep: 'Yes.'
Jeep is kind of like a cursed car company. It has long been a money maker, but it has only ever been a part of real shit-for-brains car conglomerates. Throughout its history, Jeep has bounced around from one sorry company to another, usually propping the whole operation up before getting sold in desperation. Willys to Kaiser, Kaiser to AMC, AMC to tumultuous Chrysler. One analyst at Morgan Stanley asked current Fiat-Chrysler boss Sergio Marchionne yesterday if Jeep could get spun off again. His answer, as the Detroit Free Press reports, was terse:
Marchionne was asked whether the automaker's Jeep and Ram brands, either together or separately, could be spun off into a separate, standalone company.

"Yes," Marchionne said.

The Wall Street Journal clarified a bit:
Mr. Marchionne stirred speculation his company might contemplate spinning off the Jeep and Ram brands to help meet its financial goals, much like an initial public offering for Ferrari NV in 2015. When asked if the two Chrysler family nameplates could survive separately or combined as an independent business, the CEO replied "yes," without elaborating.

This is sad, man. It's like Sergio is doing a fire sale here. Nobody would buy FCA as a whole, so now he's publicly opening up to the idea of selling things off piecemeal. How about Jeep? You guys like Jeep? SOMEBODY PLEASE BUY SOMETHING.
G/O Media may get a commission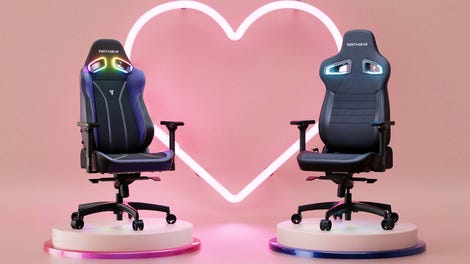 Up to $150 off
Vertagear Gaming Chairs
It's possible that this would mean Jeep could become its own company held in the FCA empire, like what happened with Ferrari a few years back. But it's also possible that if Jeep and Ram become their own thing, Chrysler and Dodge will be stuck out alone together, and Chrysler and Dodge together is about the most undesirable, least hopeful car company imaginable. If Jeep and Ram split into their own thing, I don't think it's a stretch to imagine Chrysler and Dodge getting killed.
Still, it's sorry to hear that Jeep has retained its profitable mercenary-like status, always a jewel in a rusty crown.
2nd Gear: Oddly, FCA profits are up but not because of Jeep
Since nothing makes sense in the car world, Jeep is not Chrysler's cash cow at the moment.
Chrysler profits are up 34 percent this quarter compared to how they looked a year ago. Oddly, it's not Jeep sales that are responsible for it, as The Detroit News reports:
The performance out of Europe marks a welcome change for FCA, whose U.S.-based brands have carried the automaker's profitability since the combined company emerged from the Great Recession. The first-quarter numbers suggest that is beginning to change, as new metal from the Fiat, Alfa Romeo and Maserati brands — especially SUVs — start appearing in showrooms.

The results offset a near-collapse in car sales. Like all manufacturers, FCA has been working to address declining sedan sales in a market that wants more SUVs and more pickups. FCA discontinued the Dodge Dart and Chrysler 200 small sedans last year, but its star brand Jeep, in the midst of model reshuffling, was not able to pick up the slack. U.S. Jeep sales dropped 11 percent in the first quarter of 2017.
I feel like I'm in the upside-down here. Maserati supporting Jeep? Nothing makes sense anymore.
3rd Gear: While Chrysler goes up 34 percent, Ford drops the same
Ford was not kidding around when it said its profits would be down in 2017. The company's first quarter net profits are down 36%, as Reuters reports:
Ford reported a first-quarter net profit of $1.6 billion, or 40 cents a share, down 36 percent from $2.5 billion, or 61 cents per share, a year earlier. Analysts had, on average, expected earnings per share for the quarter of 35 cents.

Automotive revenue for the quarter rose to $36.5 billion from $35.3 billion a year earlier. Analysts had expected automotive revenue of $34.7 billion.

The saddest part about this is that it's above analyst expectations.
4th Gear: Tesla is throwing money at its Germany problem
Not only has Tesla been getting into it with its workers at its factory in Fremont, California (Tesla's not keen on them unionizing), but also Tesla has been running into problems with the workers at its German supplier Grohmann Engineering. Grohmann's workers have complained of unfair wages and their powerful union, IG Metall, has been threatening a strike. Tesla's current solution: throw money at the problem, as Reuters reports:
The union said job guarantees and the offer of employee stock options have significantly reduced the prospect of a strike. Still, IG Metall is demanding a collective wage bargaining contract and improved pay. The union has complained that pay at Grohmann is 25 to 30 percent below an industry-wide collective agreement for the metalworker electric industry.


The head of Grohmann's works council, Uwe Herzig, said Tesla had offered another 1,000 euro ($1,089) one-off payment after Easter, on top of job guarantees, pay rises and stock options.

What Tesla is effectively telling the world here is that unions do work, getting employees the infrastructure to argue for better wages and conditions. It's funny that one of the central figures of techno-libertarian Silicon Valley is the one reminding everybody about this.
5th Gear: The Wall Street subprime auto loan shell game continues

If you thought that Wall Street was going to make it easy to understand what's going on with subprime auto loans, well, no. Even Bloomberg can barely make sense of whether or not this is a mirror of the housing bubble or not, as it reports in the article Wells Fargo, JPMorgan Wary of Auto Loans, But Pack Them in Bonds:
Depending whose money they're using, Wells Fargo & Co. and JPMorgan Chase & Co. either love subprime car loans or fear them.

Both banks have grown more reluctant to make new subprime loans using money from their own balance sheets. Wells Fargo tightened its underwriting standards and slashed the volume of all loans it made to car buyers in the first quarter by 29 percent after greater numbers of borrowers fell behind on payments. JPMorgan's consumer and community banking head Gordon Smith earlier this year said the bank had cut its new lending for subprime auto loans "dramatically."

At the same time the firms are indirectly funding billions of dollars of the loans by helping companies like Santander Consumer USA Holdings Inc. borrow in the asset-backed securities market, essentially shunting money from bond investors to finance companies. Wall Street banks packaged more loans from finance companies into bonds in the first quarter than the same period last year, and Wells Fargo and JPMorgan remained two of the top underwriters of the securities.

I know in my heart that this is all unsustainable and will come crashing down in a bad way, the only thing that's unclear is how much of an effect this will have on all our lives directly.
Reverse: Pontiac died and I miss it every day
Neutral: What do you think is going to happen to Jeep/Ram/Chrysler/Dodge?
If Jeep and Ram do get spun into their own thing, what do you think is going to happen? I imagine it means that Jeep and Ram, being profitable in this cheap gas moment, will stick around and sad, sorry Chrysler and Dodge will go the way of Plymouth. No car brand is too proud to die.