The FIA released the findings of its Accident Panel today regarding Jules Bianchi's horrific crash at the Formula One Japanese Grand Prix. They determined that Bianchi was traveling too fast to avoid going off at the same corner as Adrian Sutil's accident, and have recommended yellow flag speed limits as a result.
At the Japanese Grand Prix, water flowing across the racing line turn 7 at Suzuka International Circuit, which caused Adrian Sutil to go off. Sutil's disabled car caused double yellow flags to be deployed at turns 7 and 8. Jules Bianchi's car hit the tractor that was in the process of retrieving Sutil's car one lap later, when Bianchi hit the same patch of water at turn 7 and went off in the same location.
In the statement released today, the Accident Panel stated that "Bianchi did not slow sufficiently to avoid losing control at the same point on the track as Sutil."
The panel also mentioned that Bianchi's Marussia F1 car had a brake-by-wire system that may have contributed to the speed at which he hit the tractor. A FailSafe algorithm is supposed to override the throttle and cut the engine when both the brake and throttle are applied, as Bianchi was doing as he slid out of control. Unfortunately, the Torque Coordinator governing the rear brake-by-wire system prevented the car's FailSafe from cutting the car's throttle input.
G/O Media may get a commission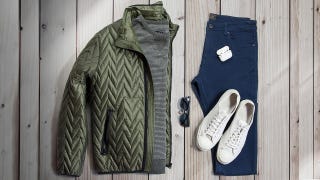 60% off
Jachs NY Fall Sale 60% Off
However, the panel seems to acknowledge the difficulty of knowing how slow is slow enough for track conditions like those at Suzuka, where heavy rains and traffic under a safety car are already causing competitors to travel much slower than usual.
To this point, they suggested a revision to the way yellow flags are handled:
1. A new regulation for double yellow flags:

Proposed new Appendix H Article (possibly under 2.4.5.1 b):

The Clerk of the Course will impose a speed limit in any section of track where double yellow flags are being displayed.

It is proposed that a Working Group, made up of FIA Race Directors and Stewards should meet and draw up detailed regulations and guidelines for the application of this new regulation, in time to apply it in 2015 across international circuit racing.

2. Safety critical software:

A review of safety critical software and measures to check its integrity will take place.
Formula One has already started acting on this recommendation. Today, the FIA also approved the use of a "virtual safety car" system that forces drivers to slow down in any sector of the track where a yellow flag is displayed.
This system has been in testing since the United States Grand Prix, and will ensure that drivers slow down enough for yellow flags in instances where deploying a safety car would be overkill.
Other recommendations for avoiding a similar accident in the future included:
Examining track drainage systems to ensure water moves off the line relatively quickly.
Reviewing the F1 calendar to avoid ending races at dusk or scheduling races during certain circuits' rainy seasons. Visibility is key to ensuring that drivers are able to see emergency flags and support crews working on or near the track.
Better training on safety procedures for drivers obtaining a Super Licence.
Better testing of wet weather tires between seasons.
Also of note were the items which the panel did not recommend.
It is not feasible to mitigate the injuries Bianchi suffered by either enclosing the driver's cockpit, or fitting skirts to the crane. Neither approach is practical due to the very large forces involved in the accident between a 700kg car striking a 6500kg crane at a speed of 126kph. There is simply insufficient impact structure on a F1 car to absorb the energy of such an impact without either destroying the driver's survival cell, or generating non-survivable decelerations.

It is considered fundamentally wrong to try and make an impact between a racing car and a large and heavy vehicle survivable. It is imperative to prevent a car ever hitting the crane and/or the marshals working near it.
We won't be seeing closed-cockpit F1 cars or tractor skirts any time soon. Instead, the Accident Panel focused their recommendations on how to make recovery efforts and inclement conditions as straightforward for drivers to deal with and as easy to spot as possible.
The FIA's statement on the Accident Panel findings can be found here.
Jules Bianchi is still recovering from the accident in critical but stable condition, and has been moved to Nice, France, to be closer to family and friends.
Photo credit: Getty Images