When this world feels like it's going to hell—if it hasn't already, which is debatable—the one true source of joy left will be Copart auction listings, where everything is beat up and the damage reasons are more ambiguous than size labels on women's clothing.

Copart is often used by insurance companies and is where cars tend to go after they've met a terrible fate, like a nasty crash, floods, fire, vandalism or anything else that rendered them an insurance write-off for their previous owners. It's like car purgatory, where cars wait to be auctioned off for a lower price than their market value when intact.
The thing that makes Copart listings so great is how lacking in detail they are, because it's not like a company trying to auction a vehicle off is going to write a narrative backstory about how it ended up in such a terrible condition. Instead, boxes are just filled with vague explanations about the condition of the car. It's quite a riot, if that kind of thing makes you laugh.
Let's take a stroll down hilarity lane, shall we?
Here's what's left of a 2014 Dodge Charger SRT8, which should have a 6.4-liter V8 engine but instead just has some seats and doors and such.
G/O Media may get a commission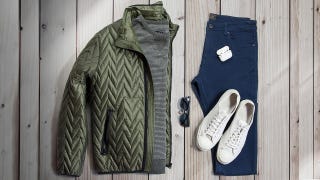 60% off
Jachs NY Fall Sale 60% Off
What must have happened here, you ask? Let's consult the "damage" box.
Normal wear! Duh. Should've known. That's how all of my cars end up after four years.
Oh, look, here's a lovely 1999 Mazda Miata that's only slightly more covered in rust color than most Miatas from that model year. Surely that kind of normal wear wouldn't send it to insurance auction, right?
Ah, the listing says this poor soul wound up in a fire. That makes it hard to tell what the original color of the car is, since it looks green from some angles and gray from others. The auction listing should tell us.

The color is "burn." That solves it. (This is oddly common for Copart cars that have been in fires.)
What about this nice 2006 Honda Civic with a primary damage listing of "biohazard/chemical," then? It looks almost totally intact, if you put a sheet over everything but the passenger side.
Civics are fun, and even more so if they've got a manual transmission. Let's see what this one may be hiding.
It has a transmission. Descriptive. (This one is about as common as the "burn" color listing.)
But forget all of these normal, modern cars. Copart auctions are great for trying to get a deal on a car to fix up, so why not try to get a one on an air-cooled 1972 Porsche 911?
It just looks a little rough. Some TLC should do the trick.
After all, air cooling, right?
Just no. Forget about it. Don't bother.