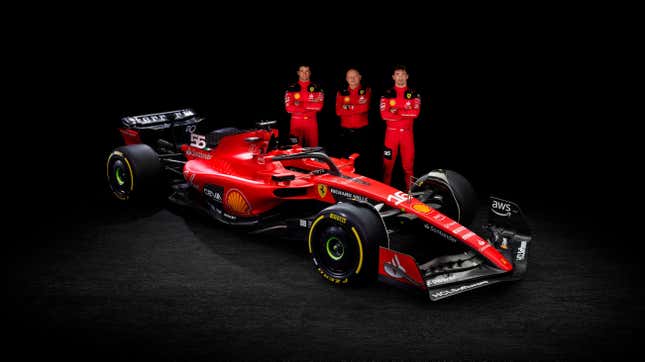 It is easy to malign the current trend of Formula 1 teams doing online livery launches on digital car models unrepresentative of the vehicle that will actually race on the track come March. Ferrari, on the other hand, has decided to, in Ferrari fashion, upped those reveals with launching its 2023 car on the track.
With guests, fans and the media in attendance, Ferrari sent its new SF-23 car out on the Fiorano Circuit, the automaker's private racing circuit, in its home of Maranello, Italy. Very few teams have their own track, and Fiorano has been a part of Ferrari's distinctive brand since the early 1970s. Unlike launches in recent seasons that have featured interpretive dancers, it is clear that Ferrari wants the focus to be solely on racing.
New Ferrari Team Principal Fred Vasseur admitted that he didn't play a large role in organizing the reveal because he hasn't been with the Italian team long. He also hinted that he was less than impressed with the virtual and online launches done by other teams this winter. For comparison, Haas did their entire launch through social media posts. Williams' launch was completely pre-recorded from start to finish. During the launch, Vasseur said:
"This also is a good feeling to look on the launch of the other teams, I think it was a bit virtual or online and I don't want to speak about the others, but I'm more than proud to do something like this with all the Tifosi around the track with guests, it's a really big event and, and for us, it's the best way to start the season."
With expectations of contending for a championship, Ferrari had an awful 2022 season. It's not yet clear if they will improve in 2023, but the legendary Italian team is aiming to both keep its zealous fans engaged while fighting to be at the top of the standings.