Good morning! Welcome to The Morning Shift, your roundup of the auto news you crave, all in one place every weekday morning. Do you have time to look for all the auto news you crave in multiple places? Hell no. You're an important businessperson, and the WiFi in this subway station is terrible.

1st Gear: Ferrari Makes Its Deal With The Devil Official
Yet another reminder that we are living in the darkest timeline is that Ferrari has officially confirmed that it's gonna do an SUV. Well, like, it'll probably be just another crossover as fit to go offroad as your neighbor's 1990 Corolla All-Trac.
Bloomberg unofficially called this one back on tuesday, but today Ferrari/FCA boss Sergio Marchionne made it official, as Bloomberg now reports:
"It will probably happen but it will happen in Ferrari's style," CEO Sergio Marchionne said of the planned utility vehicle on a conference call Wednesday after Ferrari reported a 24 percent advance in second-quarter profit. "That space is too big and too inviting and we have a lot of our customers who will be more than willing to drive a Ferrari-branded vehicle that has that king of utilitarian objective."

[...]
Marchionne reiterated that "you have to shoot me first" if Ferrari comes up with something similar to SUVs made by BMW, Bentley and Porsche. "It has not been done to compete with Porsche." Marchionne added that the company's board has not made any decision whether to build the SUV.

G/O Media may get a commission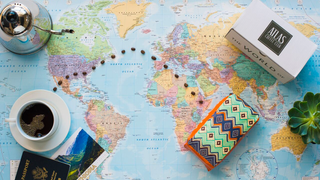 First Bag Free
Atlas Coffee Club - Free Coffee
Explore global coffee
With each bag, Atlas includes details on the coffee's tasting notes and a postcard about the region and its coffee history. And when you subscribe, you have options to tailor frequency, grind size, and roast preference of your beans, so you'll always be brewing the perfect cup.
That "you have to shoot me first" line came from Sergio last year. I'm going to go with this as bullshit. Every time Ferrari says it'll never do something, it happens anyway.
2nd Gear: Americans Still Can't Get Enough Damn Subarus
Remember when only that weird guy with all the bumper stickers had a Subaru? Those days are long gone. America is jamming its pockets with Subarus. The hunger is insatiable. Subaru has a gigantic bank vault, and America is pouring gold coins into it by the truckload.
Well, not really. But profits at Subaru are up a mad 18 percent. Subaru can thank America for the money, as Automotive News reports:
In announcing the financial results, CFO Toshiaki Okada said Subaru was able to keep sales growing in the U.S., the company's biggest market, despite cooling overall demand by tailoring new products to better match American tastes. Improvements to the retail network also helped.

"There is a shift to SUVs from sedans," Okada said. "In that sense, that is a tailwind for us. As we mainly focus on SUVs, the growing popularity of SUVs is a good thing for us."

If you're wondering how this compares to, say, BMW, the German company's profits are only up 7.5 percent and it has a new 5 Series out.
3rd Gear: BMW Commits To UK Factory Without Gobs Of Government Money
Here's an odd one for anyone used to following the auto industry: BMW is making a new commitment to its Oxford factory in the UK without even pulling any money from the UK government. This is not how the auto industry works. Historically, BMW should be extracting hundreds of millions from the local gov't. I really don't understand what's happening here, as Automotive News Europe reports:
BMW CEO Harald Krueger said the German carmaker chose to build an electric version of its Mini without receiving any assurances or incentives from British authorities.

"There were no concessions from authorities," Krueger said in a call with journalists to discuss second-quarter results on Thursday.

BMW said last month that its Mini plant in Oxford, England, has been chosen as the location to produce the EV starting in 2019. The automaker said at the time it did not receive any reassurances from the British government over post-Brexit trading arrangements.

Last month, two sources told Reuters the UK government helped to secure a 240-million-pound ($314 million) investment from Toyota with a letter reassuring the Japanese carmaker over trading conditions following Brexit.

Get your shit together, BMW. You're leaving money on the table.
4th Gear: Auto Insurance Still Discriminates Against The Poor, According To New Study
California-based consultant Doug Heller documented 240 premium quotes from six major Michigan insurers in a new study claiming that poor people are charged hundreds more for insurance compared to rich people with identical driving records, as The Detroit News reports:
A factory worker living in Detroit, Flint or Warren could be charged an average of $265 more for minimum insurance than an investment banker with an identical driving record and vehicle, according to a report prepared by California-based consultant Doug Heller, who documented 240 premium quotes obtained online from six major Michigan insurers.

Controlling for other factors, including perfect driving records, Heller concluded most insurance companies charge Michigan drivers more if they have blue-collar jobs or are unemployed, don't have a college degree and rent rather than own their home.

"What we see here is a surcharge on people who have low socioeconomic status," Heller said. "They are good drivers, they've never filed a claim, they've proven themselves to be high-quality risks, but these companies discriminate based on their socioeconomic status. And that's a huge problem, especially when you have such high rates to begin with."

The Insurance Alliance of Michigan argued that the study was bunk, as it "ignores [...] rampant fraud, the lack of any cost controls on medical providers and hospitals, and the requirement that all Michiganders purchase unlimited, lifetime medical benefits."
That claim doesn't seem to rebut the study to me, but I'm no expert.
5th Gear: I'm Loving This Report On VW Execs Thinking Nothing Is Wrong
Please enjoy this incredible story put out by The Wall Street Journal on monday. Matthias Müller is VW's post-Dieselgate CEO, and he appears to be trying to, sensibly, get the company to focus on EVs and change up its corporate culture. Everyone is yelling at him, as the WSJ reports:
Almost immediately after taking over in September 2015, Mr. Müller presented a plan to move beyond VW's huge business in diesel and gasoline vehicles and generate at least 25% of sales from electric cars. He argued VW needed to create a "significant share of revenue" from apps and services.

"What are you doing?" demanded one angry executive during a meeting of top managers last fall, referring to the CEO's stress on shifting beyond conventional vehicles, according to people present. "You are driving the nails into our own coffin."

Such exchanges have been frequent and continue to this day, say some company insiders.
Please read the whole thing, it's wonderful.
Reverse: It Remains The Most Beloved Bond Car Of All Time. Right? This Is Number One, Yeah?
Neutral: How Many Years Before An All-Electric Ferrari?
It's only a matter of time, right? When do you think it'll happen, and how?