Today's top race cars are so fast that they routinely hit more than five gs in high speed corners. So top race car drivers have had to train their necks to be unbelievably strong to physically hold their heads in place. How strong? Double F1 world champion and Indy 500 rookie Fernando Alonso can crack a walnut on his shoulder.
I first started watching F1 in 2007, Fernando Alonso's first year at McLaren. Just about every commentator and blog on the sport called him the best driver in the field, but I didn't really understand what the hype was about. I only really got an idea of his talent when I saw this video:
He cracked a walnut with his neck. This was the first time I got a sense that something really different was going on with these F1 drivers and their cars.
I got a very brief chance to interview Fernando Alonso, just 10 minutes with the guy while he was on a quick tour of New York before this year's Indy 500. I barely had time to get much out of him.
How long had he been doing these kinds of interviews? "30 years," he sighed just as he was putting his mic on. (Alonso started karting at three years old.)
G/O Media may get a commission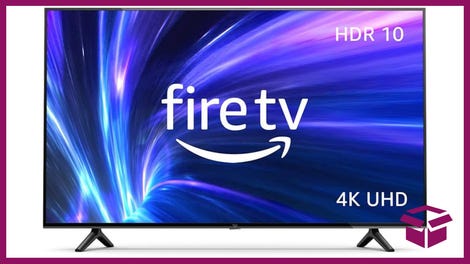 42% Off
Amazon Fire TV 50" 4K Smart TV
What would you do if you won the Indy 500? "The next stop would be the 24 Hours of Le Mans," he told another reporter from Forbes.
(The so-called Triple Crown of Motorsports is to win the Monaco F1 Grand Prix, the 24 Hours of Le Mans and the Indy 500. There is no better way to prove your skill as a driver to win these most prestigious events in three different disciplines, and it's amazing that Alonso may be chasing after it. Only one driver has ever gotten the crown, Graham Hill in 1972. Alonso is only a third of the way there.)
What's the difference between northern Spain and southern Spain? Alonso is from far north in Asturias, and noted that while his area has worse weather and more farming, the people have more "discipline." Southern Spain is where you go as a tourist. "Pure spanish," he said. Alonso grew up with his dad working at an explosives factory. His mother made his racing suits for him.
What I really wanted to know was the story behind the video of him cracking a walnut. It was in '07, he remembered, on set of a commercial. He would have still been the defending double F1 world champion at the time. The shoot had wrapped and he needed to get back on a plane, but everyone backstage pleaded with him to do it again for the camera. I did the sensible thing and asked him again too. "Oh no. I won't be able to do it," he said.
But he just about managed to crack the walnut, breaking the thing in half on his second go. It has been a long ten years since he was at that commercial.
Fernando admitted that racing has made his neck so big that he can't button his collared shirts anymore. And any tailored shirt based on his measurements is going to "flow like a pair of pajamas," he told me.
Such are the costs of being one of the fastest drivers in the world.